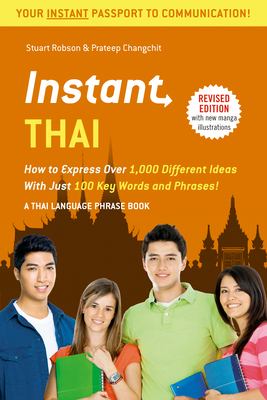 Instant Thai
How to Express 1,000 Different Ideas with Just 100 Key Words and Phrases! (Thai Phrasebook & Dictionary) (Instant Phrasebook Series)
Paperback

* Individual store prices may vary.
Other Editions of This Title:
Paperback (6/15/2007)
Description
It's amazing how 100 key words and phrases provide instant communication!
Do you want to speak simple Thai but are too busy to study it? Are you visiting Thailand for a short time and want a Thai phrase book to help you communicate? If so, this Thai phrasebook is for you—it's the easiest and quickest way to learn Thai. It's tiny 0.4 x 4.1 x 5.9 inches size makes it incredibly convenient to travel with but without losing the essential content for communication.
The idea of
Instant Thai
is simple—learn 100 words and phrases and say 1,000 things. The trick is knowing which 100 words to learn, but the authors Stuart Robson and Prateep Changchit have solved the problem, choosing only those words you'll hear again and again. Even with a vocabulary this small, you'll be surprised how quickly and fluently you too can communicate in the Thai language. It also has an English-Thai dictionary, arranged alphabetically. At the end of the book are useful appendices for telling the time, kinship terms, some Thai proverbs, and emergency expressions. Here's a sample of what you'll be able to do with this Thai phrasebook:
Meet people.
Go shopping.
Ask directions.
Ride the subway.
Order food and drinks.
And much more.
About this new edition:
Instant Thai
is now updated with 10% more content and fun manga-style illustrations and comics!
Praise For Instant Thai: How to Express 1,000 Different Ideas with Just 100 Key Words and Phrases! (Thai Phrasebook & Dictionary) (Instant Phrasebook Series)…
"This is a great book for beginners of the Thai language. You'll learn lots of valuable phrases in a way that can help you put them together in many different ways to get your thoughts across in a way that Thai people can understand. When learning Thai, the VERY first thing you should do is learn how to read. This is absolutely essential. Once you can read the Thai script, you'll always know how to say the words properly. You should then download Anki so you can throw all the phrases in there and use the flashcards to help you memorize what's in this book." —Goodreads

"The Instant series from Tuttle, however, is not your usual phrasebook. Rather than focusing on phrases to help you order food, go to the hospital, rent a hotel room, or buy a train ticket, it provides you with more than 100 key words and phrases to help you express more than 1,000 unique ideas based on general conversation topics." —Eurolinguiste
Tuttle Publishing, 9780804845960, 160pp.
Publication Date: August 9, 2016
About the Author
Stuart Robson has many years' experience teaching languages at various universities. He has written several books, including Instant Indonesian.

Prateep Changchit is currently teaching Thai to the Australian Federal Police in Melbourne and has produced teaching kits for English teachers in Bangkok.