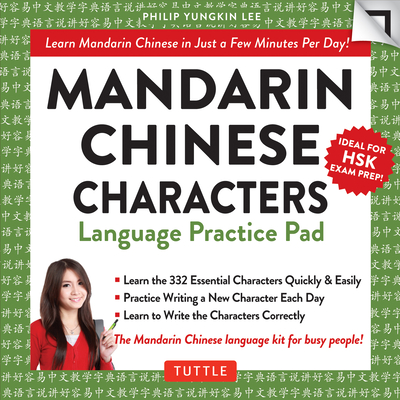 Mandarin Chinese Characters Language Practice Pad
Learn Mandarin Chinese in Just a Few Minutes Per Day! (Fully Romanized) (Tuttle Practice Pads)
Other

* Individual store prices may vary.
Description
Five minutes a day is all it takes to begin learning Chinese
The perfect guide for busy people who want to learn Chinese,
Mandarin Chinese Characters Language Practice Pad
helps even those completely unfamiliar with the language learn and write the 332 most essential Chinese characters--in just five minutes a day Each sheet introduces one new character--showing how it is pronounced and written, along with its meaning and related vocabulary. The reverse side offers sample phrases and sentences to demonstrate how to use the words in their correct context. Ideal for HSK Levels 1 & 2 as well as AP Chinese Language and Culture Exam Prep.
This handy kit includes:
A 16 page portable study book that lists the most essential 332 Mandarin Chinese characters and associated vocabulary
Mnemonic visual aids to enhance comprehension
336 page double-sided workbook for writing practice
A study guide
Tuttle Publishing, 9780804846493
Publication Date: March 6, 2018
About the Author
Dr. Xin Liang is Senior Lecturer in the Center for Language Education at the Hong Kong University of Science and Technology. She teaches Chinese as a foreign language and as the first language to undergraduates, postgraduates and MBA students. Dr. Liang developed many courses including 'Chinese for non-Chinese background students' and 'Chinese writing for academic purpose.' Before taking up the position in Hong Kong, she taught Chinese pedagogy and trained teachers of Chinese in Mainland China. Dr. Martha Lam is Associate Director of the Center for Language Education at the Hong Kong University of Science and Technology. A language practitioner, teacher and teacher-educator for over 30 years, she has taught and developed Chinese courses for non-native speakers of Chinese in Sydney and Hong Kong and is currently involved in the training of Chinese teachers for Teaching Chinese to Speakers of non-Chinese background.