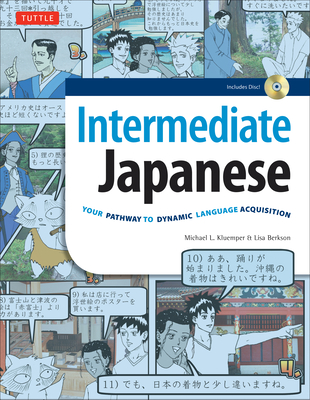 Intermediate Japanese Textbook (Paperback)
Your Pathway to Dynamic Language Acquisition: Learn Conversational Japanese, Grammar, Kanji & Kana: Audio CD Included
Tuttle Publishing, 9780804846615, 384pp.
Publication Date: February 2, 2016
Other Editions of This Title:
Hardcover (1/10/2012)
Hardcover (6/5/2018)
Paperback (1/10/2012)
* Individual store prices may vary.
Description
This is complete Japanese textbook and learning package for intermediate level students.
In the intermediate level of this highly-acclaimed new series, learners will continue to study Japanese through an engaging storyline which slowly unfolds over the arc of the text, keeping things interesting and adding the motivation needed to master new material. This story-based approach is a great way to learn Japanese. The emphasis in
Intermediate Japanese
is on real-life situations drawn from contemporary Japanese culture and authentic written, visual and oral materials embedded in the lessons. Available in both hardcover and paperback,
Intermediate Japanese
includes an accompanying audio disc and free web-based multimedia resources with additional exercises. A separate Workbook is available with corresponding one-of-a-kind practice activities.
Key features of this program:
The focus is very visual. The book's narrative is told with manga-style story pages, and the CD-ROM uses colorful video.
Authentic written, visual, and oral materials are embedded very naturally throughout the book.
Independent learners and classroom students alike will find this an accessible and upbeat way to master contemporary Japanese.
Kanji characters are emphasized here more than in other textbooks and are taught as an integral part of learning Japanese spoken vocabulary, rather than separately.
By the end of this book, learners will have mastered 149 additional kanji, for a cumulative total of 300 kanji.
The CD-ROM includes
Native Japanese language speakers.
Pronunciation guides for all new words.
Accompanying dialogues.
The Beginning Japanese Website includes:
Online games and activities.
Additional information and updates.
Downloadable Hiragana Practice Book, Katakana Practice Book, kana practice sheets.
Downloadable kanji and kana flash cards.
Beginning Japanese
is the second volume in a 2-level series. Deepen your learning with the
Intermediate Japanese Workbook
, a volume of drills and exercises that reinforce the lessons in the textbook.
About the Author
Michael L. Kluemper was a JET Program participant from 1990-93 in Akita-ken, and has been teaching about Japanese language and culture since that time. Serving as a board member for the National Council of Japanese Language Teachers from 2001-08, Kluemper served as president, newsletter editor, and on national task forces for the implementation of a Japanese AP course, National Board Certification for teachers, and various advocacy campaigns. Kluemper teaches Japanese at the high school level at Ballard High School in Louisville, KY. Lisa Berkson has been teaching Japanese language at the high school level for eight years. After earning her teaching certificate, Berkson led the Japanese language program at Warren Central High School, in Indianapolis, IN, for seven years. She currently teaches Japanese and Chinese language classes at Dobson High School in Mesa, Arizona.