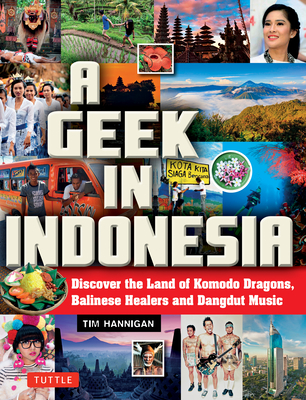 A Geek in Indonesia (Paperback)
Discover the Land of Komodo Dragons, Balinese Healers and Dangdut Music
Tuttle Publishing, 9780804847100, 144pp.
Publication Date: February 6, 2018
* Individual store prices may vary.
Description
For anyone wanting to move beyond tired travel guide cliches, A Geek in Indonesia is a hip, irreverent and streetwise introduction to Southeast Asia's biggest country. Jump from the beaches of Bali to a tour bus circuit of the fascinating island of Java and come face to face with the reality of 21st-century Indonesia--from local fashion bloggers and the world's most avid tweeters to feminist activists, punk pioneers, and scandalous celebrities. Discover the unlikely delights of dangdut--Indonesia's homegrown working-class rockers--and a dizzying universe of pop, jazz, and alternative music. Learn what makes Jakarta the social media capital of the world, dive into the Indonesian blogosphere, and get essential insights into the traditional values that still underpin modern tech-savvy Indonesian society. Then travel back in time to the outer fringes of the archipelago where tribesmen continue to wear ritual battle gear. Packed with lively articles on everything from office and cafe culture to food, dating rituals, and TV soap operas--and illustrated with hundreds of colorful images--this Indonesian travel guide is a delightful read for backpackers, first-time visitors, newly-arrived expats, long-time Indonesiaphiles. A Geek in Indonesia is a guide like no other, to a country that has no equal.
About the Author
Tim Hannigan's first book Murder in the Hindu Kush was shortlisted for the Boardman-Tasker Prize. His second book Raffles and the British Invasion of Java won the 2013 John Brooks Award. His features and travel articles appear regularly in newspapers and magazines in Indonesia and beyond. He has also authored A Brief History of Indonesia and edited A Brief History of Bali.