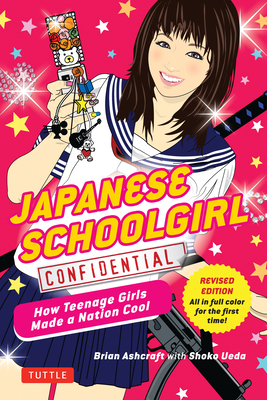 Japanese Schoolgirl Confidential (Paperback)
How Teenage Girls Made a Nation Cool
Tuttle Publishing, 9780804847391, 208pp.
Publication Date: September 20, 2016
Other Editions of This Title:
Paperback (5/13/2014)
Paperback (8/1/2010)
* Individual store prices may vary.
Description
"The schoolgirl is the main driver of Japan's Gross National Cool, and Brian Ashcraft's book is the best source for those hoping to understand why." --Chris Baker, WIRED Magazine
Japanese Schoolgirl Confidential
takes you beyond the realm of everyday girls to the world of the iconic Japanese schoolgirl craze that is sweeping the globe. For years, Japanese schoolgirls have appeared in hugely-popular anime and manga series such as
Dragon Ball, Sailor Moon, The Melancholy of Haruhi Suzumiya,
and
Blood: The Last Vampire
. These girls are literally showing up everywhere--in movies, magazines, video games, advertising, and music.
WIRED
Magazine has kept an eye on the trends emerging from these stylish teens, following kick-ass schoolgirl characters in videogames like
Street Fighter
and assassin schoolgirls in movies like Quentin Tarantino's
Kill Bill
. By talking to Japanese women, including former and current J-Pop idols, well-known actresses, models, writers, and artists--along with famous Japanese film directors, historians and marketers--authors Brian Ashcraft and Shoko Ueda (who have both contributed to
WIRED
's "Japanese Schoolgirl Watch" columns) reveal the true story behind Japan's schoolgirl obsessions. You'll learn the origins of the schoolgirls' unusual attire, and how they are becoming a global brand used to sell everything from kimchi to insurance. In
Japanese Schoolgirl Confidential
, you'll discover:
Sailor-suited pop-idols
Cult movie vixens
Schoolgirl shopping power
The latest uniform fashions
Japanese schoolgirls are a symbol of girl empowerment.
Japanese Schoolgirl Confidential
shows why they are so intensely cool. Don't miss this essential book on the Japanese youth culture craze that is driving today's pop culture worldwide.
"Whether your preferred schoolgirl is more the upstanding heroine Sailor Moon or the vengeful, weapon-wielding Gogo Yubari of Quentin Tarantino's Kill Bill, Vol. 1, you'll come away well versed." --Publishers Weekly
About the Author
Brian Ashcraft and Shoko Ueda are a husband and wife team based in Osaka, Japan. Brian is the author of Arcade Mania!, a senior writer for Kotaku.com, and was previously a contributing editor at WIRED Magazine. He has written for Metropolis Magazine, Popular Science, Otaku USA, the British tech magazine T3, and The Japan Times. Shoko has been a research assistant for WIRED and is a former Japanese schoolgirl.
or
Not Currently Available for Direct Purchase