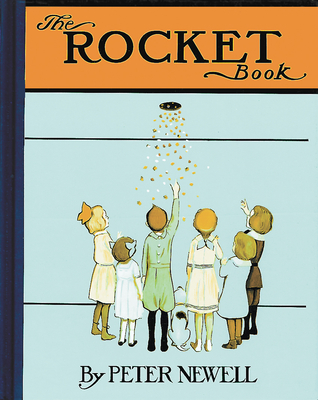 The Rocket Book (Peter Newell Children's Books)
Hardcover

* Individual store prices may vary.
Other Editions of This Title:
Paperback (2/16/2013)
Hardcover (9/21/2018)
Paperback (4/15/2016)
Paperback (12/2/2011)
Paperback (2/18/2015)
Paperback (9/21/2018)
Description
When Fritz,
the Janitor's bad kid,
Went snooping in the basement,
He found a rock snugly hid
Beneath the window casement. He struck a match with one fell swoop;
Then, on the concrete kneeling,
he lit the rocket and--she--oop
It shot up through the ceiling. Long before Richard Scarry or Dr. Seuss, an American artist delighted a generation of children and their parents with hilarious, topsy-turvy illustrations and slightly subversive tales told in rhyme. This was illustrator/author Peter Newell. Originally published in 1912, The Rocket Book remains as profoundly enjoyable and incredibly popular as ever. This classic work will delight readers of all ages with the story of how a rocket launched from the basement floor of an apartment building and how it interrupts the day. Peter Newell (1862-1924) began his career as an artist drawing portraits, using crayons as his medium. In his fantastic humor, many believe, is the first appearance of the gentle humor of the absurd which The New Yorker has subsequently developed to such a high level.
Tuttle Publishing, 9780804847421, 52pp.
Publication Date: October 11, 2016
About the Author
Peter Newell (1862 -1924) began his career painting portraits, using crayons as a medium, before turning to children's book. Besides his own books, Newell illustrated Mark Twain's Innocents Abroad and Lewis Carroll's Alice in Wonderland and Through the Looking Glass. He is the author of the Tuttle Classics The Hole Book, The Slant Book, and The Rocket Book.