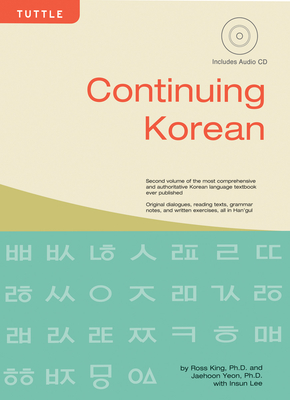 Continuing Korean (Hardcover)
(audio CD Included) [With CD (Audio)]
Tuttle Publishing, 9780804847629, 544pp.
Publication Date: July 19, 2016
Other Editions of This Title:
Hardcover (8/15/2002)
* Individual store prices may vary.
Description
This is a complete and effective intermediate-level Korean textbook and Korean language learning package It is the next book in the Elementary Korean series and takes student's abilities to read comprehend Korean, speak Korean, read Korean, and write Korean to the next level. Continuing Korean is designed for learners who have achieved basic proficiency and wish to progress to the more complex structures of the Korean language. It offers a full range of field-tested exercises that will help readers build their confidence and fluency in the Korean language. Each lesson includes Korean dialogues, vocabulary, lesson notes and detailed breakdowns of the grammatical structure under discussion, and exercises. The accompanying MP3 audio CD is another great way to learn Korean and ensures correct pronunciation and helps to build listening comprehension.
About the Author
Ross King, Ph.D., is Professor of Korean and Head of the Department of Asian Studies at the University of British Columbia. He completed his B.A. in Linguistics at Yale and his doctorate in Linguistics (Korean) at Harvard. Dr. King taught Korean language and linguistics at the School of Oriental and African Studies, University of London, from 1990 to 1994, before accepting his current position. Dr. King's research interests range from Korean historical grammar, dialectology and pedagogy to the language, culture and history of the ethnic Korean minority in the former Soviet Union. He also serves as Dean of the Korean Language Village at Concordia Language Villages, a Korean language and culture summer immersion program for young people ages 7 to 18 that is based in northern Minnesota. Jaehoon Yeon, Ph.D., is Professor of Korean Language and Linguistics and Chair of the Centre of Korean Studies at the School of Oriental and African Studies (SOAS), University of London. He is the author of Korean Grammatical Constructions: Their Form and Meaning (Saffron Books, London) and the co-author of Korean: A Comprehensive Grammar (Routledge), Complete Korean: Teach Yourself (Hodder Education) and Integrated Korean: Advanced I, II (University of Hawaii Press). He has published many articles on Korean grammar and linguistics. He has been teaching Korean language and linguistics at SOAS since 1989. Dr. Yeon's research interests include a wide range of Korean linguistics (especially morpho-syntax) and linguistic typology, Korean language pedagogy, and translation.