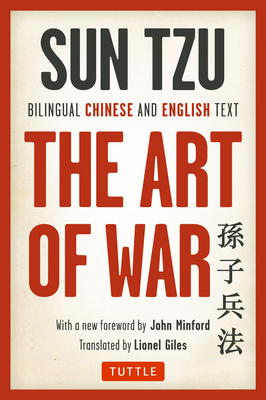 The Art of War (Paperback)
Bilingual Chinese and English Text (the Complete Edition)
Tuttle Publishing, 9780804848206, 256pp.
Publication Date: March 14, 2017
Other Editions of This Title:
Paperback (12/2/2017)
Hardcover (5/28/2013)
Paperback (5/8/2013)
Paperback (4/30/2016)
Paperback (10/29/2013)
Paperback (6/18/2018)
Paperback (3/3/2008)
Paperback (8/3/2017)
Paperback (11/28/2017)
Paperback (2/2/2010)
Paperback (12/27/2013)
Paperback (1/28/2014)
Paperback (12/25/2017)
Paperback (10/16/2017)
Paperback (3/4/2010)
Paperback (12/1/2006)
Paperback (8/9/2013)
Paperback (10/19/2013)
Paperback (11/13/2012)
Hardcover (2/25/2016)
* Individual store prices may vary.
Description
Sun Tzu's The Art of War is still one of the world's most influential treatises on strategic thought. Applicable everywhere from the boardroom to the bedroom, from the playing field to the battlefield, its wisdom has never been more highly regarded. Now available in its complete form, including the Chinese characters and English text, this essential examination of the art of decisive military strategy features extensive commentary and an insightful historical introduction written by Lionel Giles, its original translator. This new edition includes an all-new introduction by the scholar of ancient Chinese literature, John Minford.
About the Author
Sun Tzu, originally named Sun Wu and also called Chang Qing, authored The Art of War in the sixth century BC. This military strategy book became one of the most influential books of war, and Sun Tzu became well-known for being a military strategist, but also an international relations realist. Lionel Giles worked in the British Museum for most of his professional life, becoming Keeper of Oriental Printed Books and Manuscripts in 1936. In addition to The Art of War, he produced other Chinese classics including The Sayings of Lao Tzu, Musings of a Chinese Mystic, The Sayings of Confucius, Taoist Teachings from the Book of Lieh Tzu and The Book of Mencius. John Minford is dean of the School of Arts and Social Sciences at the Open University of Hong Kong and has taught Chinese literature and literary translation in China, Hong Kong, and New Zealand. He has published widely on Chinese literature and translated numerous works including Strange Tales from a Chinese Studio by Pu Songling and The Art of War.