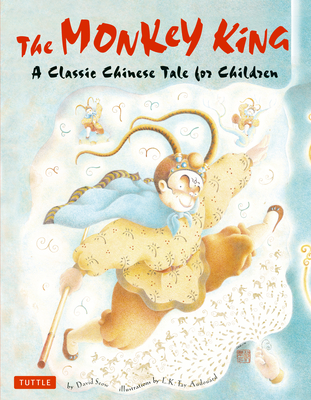 The Monkey King
A Classic Chinese Tale for Children
Hardcover

* Individual store prices may vary.
Description
The Monkey King: A Classic Chinese Tale for Children is inspired by Chinese folktales and legends about Monkey, King of the Mountain of Flowers and Fruit, Great Sage Equal to Heaven. But his friends just call him Monkey Hilariously mischievous and full of energy, Monkey has uniquely incredible magical powers. Long ago, the Jade Emperor, the ruler of the Heavens, was so unhappy that China was in great turmoil that he even considered destroying its people. The Goddess of Mercy, Guan Yin, suggested another way--find Lord Buddha's scriptures in India and bring them back to China--this would help the Chinese to become peaceful and kind. This Chinese children's story is about the beginnings of this epic journey, and how Monkey, Pigsy, and Sandy join this quest.
Tuttle Publishing, 9780804848404, 32pp.
Publication Date: March 28, 2017
About the Author
David Seow was born and raised in Singapore. He studied at Anglo-Chinese School, Oregon Episcopal School, and subsequently the University of Portland, Oregon. After a stint as a sitcom writer with an award-winning television series, he embarked on a career in children's literature. David is the author of twenty-three well-received children's books, including The Littlest Emperor. L.K. Tay-Audouard continues her quest, after Singapore Children's Favourite Stories, to recapture the sense of wonder and naivete that most of us lose in the process of growing up. The genuine desire to engage the reader remains the driving force of her inspiration. To portray the mythological characters of this popular legend, these whimsical illustrations have been given an antique look. Lak-Khee is also the author of Adventures of the Treasure Fleet.