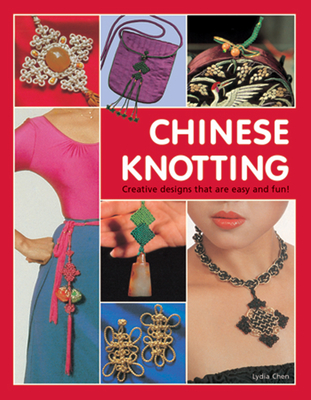 Chinese Knotting
Creative Designs That Are Easy and Fun!
Hardcover

* Individual store prices may vary.
Other Editions of This Title:
Hardcover (8/15/2003)
Description
Knotting, the joining of two cords, is an old and revered art form in China and an integral part of Chinese life. Since ancient times, Chinese knots have been used for a variety of practical and decorative purposes: to record events, aid in fishing and hunting, wrap and tie items, embellish personal attire, jewelry and fashion, ornament other works of art, and communicate. The intricate knot work and magnificent color combinations not only lent elegance to everyday objects, or a touch of gaiety and enchantment but were an aesthetic expression of Chinese folk symbolism, expressing wishes for good fortune and wealth or the joys of love and marriage. In craft book Chinese Knotting, author Lydia Chen first traces the origins, history, and symbolism of this fascinating craft, before taking the reader through the fundamental elements necessary for tying Chinese decorative knots--the materials, implements, and main processes. Step-by-step instructions are then given for the 11 basic knots, which provide the building blocks for the 14 compound knots-combinations and variations of the simple knots-that follow in the next section. The final section presents 41 knotting projects of varying difficulty. Detailed instructions, clear diagrams, and color photographs, combined with an exciting assortment of creative applications, will help readers discover the relaxation, artistic satisfaction, and beautifully personalized ornamentation that Chinese Knotting can offer.
Tuttle Publishing, 9780804848756, 116pp.
Publication Date: June 13, 2017
About the Author
Lydia Chen, a leading authority on traditional Chinese decorative knotting, was born in Loching, Chekiang, in 1940. Her interest in knotting began when her father-in-law, a deputy curator at the National Palace Museum in Taipei, Taiwan, arranged for her to learn simple knots from an elderly museum custodian. From this modest beginning, she went on to figure out how knots were formed from the antique pieces she collected and even invented some designs of her own. She has taught knotting at colleges, held several exhibitions of her work both at home and abroad, and authored a number of books on the art.
or
Not Currently Available for Direct Purchase