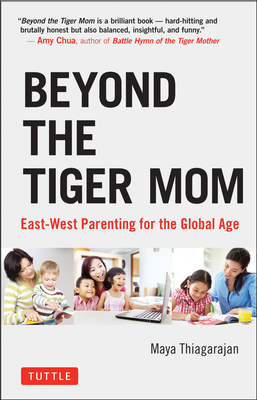 Beyond the Tiger Mom (Hardcover)
East-West Parenting for the Global Age
Tuttle Publishing, 9780804849524, 224pp.
Publication Date: June 26, 2018
Other Editions of This Title:
Hardcover (2/23/2016)
Paperback, Vietnamese (7/1/2018)
* Individual store prices may vary.
Description
How do Asian parents prime their children for success from a young age by encouraging them to achieve academic excellence? Why do Asian kids do so well in math and science? What is the difference between an Asian upbringing and a Western one?
These are just a few of the fascinating questions posed and discussed in
Beyond the Tiger Mom
, a captivating new book by educator, author, and mother, Maya Thiagarajan. In this research-backed guide, she examines each of the "tiger mother" stereotypes and goes beneath the surface to discover what happens in Asian parenting households. How do Asian parents think about childhood, family, and education and what can Western parents learn from them? And what benefits does a traditional Western upbringing have that Asian parents, too, may want to consider?
Some of the takeaways of this parenting book include:
The best of Asian parenting practices -- such as how to teach children math, or raise tech-healthy kids
Teaching your child to broaden his or her attention span
Finding the right balance between work and play, while including family time
Helping your child see failure as a learning experience
And many, many more insights
Each chapter offers interviews with hundreds of Asian parents and kids and ends with a "How To" section of specific tips for Asian and Western parents both to aid childhood education and development inside and outside the classroom. Woven into this narrative are her reflections on teaching and parenting in locations that span the East and West. In this book, Thiagarajan synthesizes an extensive body of research on child education and Asian parenting both to provide accessible and practical guidelines for parents.
About the Author
Maya Thiagarajan was raised in Chennai India, by her South Indian father and American mother. After high school, Maya left India and moved to the US. She earned a BA in English from Middlebury College and a Masters in Education Policy from Harvard University. Maya started her teaching career at a tough urban public school in Baltimore City and later went on to teach at some of America's most prestigious independent schools. In 2009, Maya moved to Singapore where she now teaches students from around the world at an international school. Over half her students are South Asian or East Asian, deepening her understanding of Asian family values and Asian approaches to education. Maya has two children aged 5 and 8.