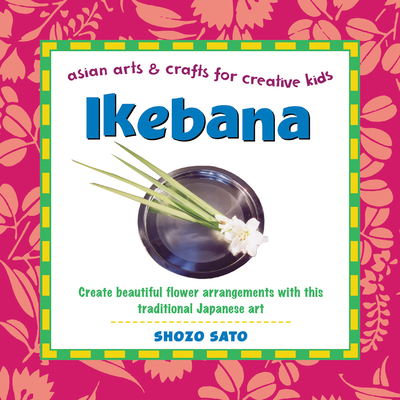 Ikebana (Hardcover)
Create Beautiful Flower Arrangements with This Traditional Japanese Art (Asian Arts and Crafts for Creative Kids)
Tuttle Publishing, 9780804849753, 64pp.
Publication Date: August 22, 2017
Other Editions of This Title:
Paperback (2/12/2013)
Hardcover (5/15/2008)
Hardcover (11/1/2004)
* Individual store prices may vary.
Description
Using colorful illustrations this multicultural children's book introduces readers to Japanese Ikebana.
Ikebana, the ancient Japanese art of flower arranging, has never been easier--or more fun This colorful, easy-to-follow guide will walk you through the steps of 10 different ikebana projects. Before you know it, you'll be creating your very own unique and beautiful flower arrangements. Creating flower arrangements is a great way to explore this time-honored Japanese art form. Following the step-by-step instructions, you'll learn to arrange how to create:
Kenzan Moribana--a basic style using a low, open container
Nageire Ikebana--formal arrangements that balance length and weight
Suiban (Water Platter) Ikebana--the earliest form of Ikebana, using a shallow platter filled with water
Natural Style Ikebana--arrangements that imitate nature
Once you've created your own arrangements, you can display them or give them as gifts, sharing a part of nature--and your creativity--with the people around you.
About the Author
Shozo Sato is a master of traditional Zen arts, and has received the Order of Sacred Treasure from the Emperor of Japan for his contributions in teaching Japanese traditions. His areas of expertise include ikebana (flower arranging), chanoyu (tea ceremony), and Japanese theater as well as sumi-e (ink painting). He conducts workshops on ikebana and sumi-e throughout the U.S., Asia and Europe and is the author of numerous books including Tea Ceremony, Shodo: The Quiet Art of Japanese Zen Calligraphy and The Art of Sumi-e. He was the founding director of Japan House at the University of Illinois, where he is Professor Emeritus and continues to teach Japanese arts. Shozo Sato resides in Champaign, IL.
or
Not Currently Available for Direct Purchase