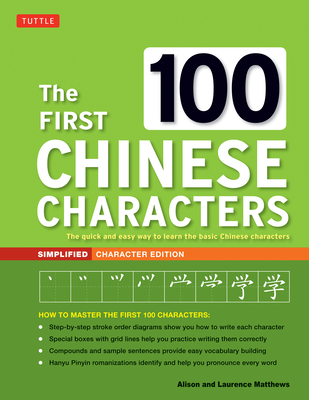 The First 100 Chinese Characters
Simplified Character Edition: (HSK Level 1) The Quick and Easy Way to Learn the Basic Chinese Characters
Paperback

* Individual store prices may vary.
Other Editions of This Title:
Paperback (9/5/2017)
Paperback (1/15/2007)
Paperback (1/15/2007)
Description
This book is a quick and easy way to learn basic Chinese Characters.
All beginning Chinese language learners struggle to memorize and learn to write Chinese characters.
The First 100 Chinese Characters
adopts a structural approach which helps students to quickly master the basic characters that are fundamental to this language. This character book is intended for beginning Chinese students. It presents characters that have been carefully selected for rapid and effective learning.
The English meanings, pronunciations in
hanyu pinyin
and alternate forms (if any) for each Chinese character are presented along with a stroke order guide and spaces for writing practice. Printed with gray guidelines, the stroke order guides are designed to be traced over to teach students the standard sequence of strokes used to write the character. Related compounds and phrases are given to assist in vocabulary building. Three indexes at the back allow the characters to be looked up by their English meanings,
hanyu pinyin
pronunciations, or radicals. Extra practice sheets are also provided.
This Chinese character book contains:
Step-by-step stroke order diagrams show you how to write each character.
Special boxes with grid lines help you practice writing them correctly.
Compounds and sample sentences provide easy vocabulary building.
Hanyu pinyin romanizations identify and help you pronounce every word.
Praise For The First 100 Chinese Characters: Simplified Character Edition: (HSK Level 1) The Quick and Easy Way to Learn the Basic Chinese Characters…
"This book really does have the characters you need to know for a basic understanding of Mandarin. I like the fact that it supplies a proper grid, gives you both stroke order and direction, and show the radical for each character. If you're a new person who wants to learn Chinese, I'd recommend this book for your reference." —Hanban.com blog

"Veeeery helpful in learning the basics of Chinese calligraphy and helping understand the order of the strokes. A must for any student of Chinese!" —Goodreads
Tuttle Publishing, 9780804849920, 128pp.
Publication Date: September 5, 2017
About the Author
Alison Matthews is a statistician who has worked in the oil, aviation, tourism, medical and software industries, and also as a university lecturer.

Laurence Matthews has worked as an aviation consultant in Asia, including both China and Japan, and is the author of the Kanji Fast Finder and Chinese Character Fast Finder books. Both authors have wide experience in organizing and presenting complex information to a variety of audiences.