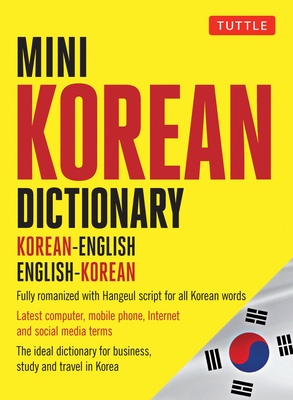 Mini Korean Dictionary
Korean-English English-Korean (Tuttle Mini Dictionary)
Paperback

* Individual store prices may vary.
Description
It's never a good idea to be overly-reliant on technology while traveling Look-up words quickly and easily with this Korean travel dictionary.
Tuttle's
Mini Korean Dictionary
is ideal for any application where a handy and portable dictionary is required. This pocket-sized dictionary is intended for use by tourists, students, and business people traveling to Korea, or as a Korean language study reference.
Mini Korean Dictionary
is an essential tool for communicating, and a great way to learn Korean. In addition to being an excellent English to Korean dictionary and Korean to English dictionary,
Mini Korean Dictionary
contains essential notes on the Korean language, Korean grammar, and Korean pronunciation. All words are written in a Romanized form as well as Korean script (
hangul
) so that, in case of difficulties, the book can directly be shown to the native speaker you're trying to communicate with.
This mini dictionary contains the following essential features:
Bidirectional Korean to English and English to Korean
Over 12,000 crucial Korean words, as well as useful Korean expressions and idioms
A basic overview of Korean grammar and pronunciation
All the latest Korean social media and computer terms
May be used for all U.S. ESL standardized testing
Tuttle Publishing, 9780804850018, 384pp.
Publication Date: April 10, 2018
About the Author
The Tuttle Publishing Company was established in 1948 in Rutland, Vermont, and Tokyo, Japan, and is today regarded as a premier publisher and seller of books rooted in Asian culture, language and history. Since its founding in 1948, Tuttle has published more than 6,000 books and today maintains an active backlist of around 2,000 titles. Today, Tuttle publishes 150 new titles each year focusing on Asian Languages, Asian Food & Cooking, Gardening & Flower Arranging, Crafts & Origami, Children's Books, Martial Arts, Asian Literature, Games & Graphic Novels, Asian History & Culture, Health & Fitness, Self-Help & Eastern Religion, Asian Art & Collectibles, Interior Design & Architecture, Travel Guides, Maps, and Business Books. Tuttle products are available in printed formats as well as popular eBook formats.