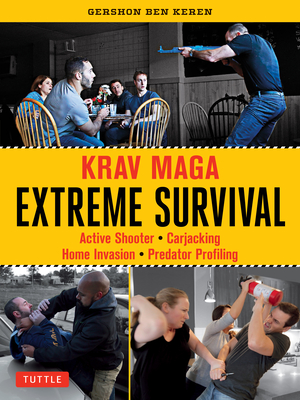 Krav Maga Extreme Survival
Active Shooter * Carjacking * Home Invasion * Predator Profiling
Paperback

* Individual store prices may vary.
Description
The result of extensive research, including an analysis of over 140 active shooter/killer incidents,
Krav Maga Extreme Survival
provides an apolitical view of personal safety--concentrating on practical methods to survive violent situations. In his third book, Gershon Ben Keren explains how Krav Maga techniques can be used to survive some of the most relevant, extreme situations including carjackings, home invasions and attempted mass killings. The book also details predator profiling methods to aid in the prediction, prevention and avoidance of violence. Demonstrating effective solutions that have been tried and tested in both the real world and through reconstructions of real-life events, each section of
Krav Maga Extreme Survival
presents detailed instructions alongside a series of photographs that show how to defend yourself and others against:
Attacks in workplaces, homes and public places
Instances of domestic violence including violent and abusive relationships
Assailants armed with knives, handguns, long barrel firearms, explosives, and improvised weapons
Attacks in cars and other confined and restricted spaces
Vehicular rammings
Unarmed attackers
One-on-one assaults and attacks targeting a group
Emphasizing a dynamic assessment of your environment, combined with a rapid response, Krav Maga Extreme Survival teaches practitioners to neutralize an assailant's advantage early, before the situation escalates.
Tuttle Publishing, 9780804850285, 224pp.
Publication Date: October 23, 2018
About the Author
Gershon Ben Keren is a 5th Degree Black Belt and Head of System for Krav Maga Yashir. He has been training in Krav Maga since 1994, in both Israel and Europe. In his over 25 years of experience, he has trained with many different trainers and associations, including some of the Israeli Defense Forces' most elite Close Combat/Krav Maga instructors. In 2010, he was inducted into the Museum of Israeli Martial Arts by Dr. Dennis Hanover. Having worked in the security sector, as an operative, trainer and consultant, his emphasis is on violence mitigation, prediction, and avoidance. His real world experience, coupled with his academic background (Master's Degree in Psychology and continued Post-Graduate study in Criminology and Criminal Psychology), informs the reality-based self-defense training that he provides to individuals, corporations, and agencies. He lives in Boston, where he runs his full-time school, and corporate services, as well as free women's self-defense/self-protection training, through Krav Maga Yashir Boston.