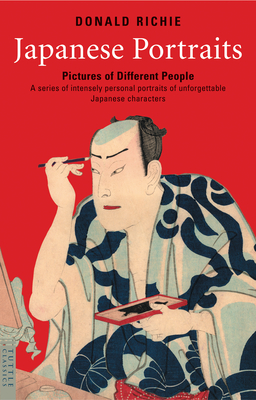 Japanese Portraits (Paperback)
Pictures of Different People (Tuttle Classics)
Tuttle Publishing, 9780804850537, 248pp.
Publication Date: May 1, 2018
Other Editions of This Title:
Paperback (5/15/2006)
* Individual store prices may vary.
Description
These private recollections of longtime Japan resident and Japanese culture expert Donald Richie capture the personalities of the Japanese people with insight and humor. From the private musings of author Donald Richie, comes this extensive collection of brief written "portraits" which capture the personalities of 54 different Japanese people--some famous, some notorious, and some unknown. First written in 1987, Japanese Portraits presents one author's vision of Japanese culture and etiquette through precise, intimate profiles of both the ordinary and extraordinary people that make up the diverse nation. This collection of individual vignettes is perhaps the first book about the Japanese to view them entirely unhindered by the various theories about them, and about culture in Japan as a whole--depicting them as complicated, simple, inscrutable, and understandable, like anyone else, yet still unique. In these fifty-four pieces you'll meet some household names--Mishima, Kawabata, Mifune, Kurosawa--and little-known neighborhood figures: the would-be geisha, the ex-boxer turned gangster, the scheming bar madame and the old man dying alone. And there are dozens of others, individuals who have in common, besides their Japanese nationality, the fact that they knew the author, and that--fortunately for us--he knew them. These highly personal reminiscences form one of the most original and deeply felt books on culture in Japan ever to appear.
About the Author
Donald Richie is perhaps best known as the leading Western authority on the Japanese film and has lived in Japan since 1947. Author of the definitive works on Kurosawa and Ozu, his most recent is A Hundred Years of Japanese Film. He also writes on other aspects of Japan and is the author of thirty books and dozens of essays. Richie is especially well-known for his travel memoir The Inland Sea which has been adapted into a popular PBS documentary. His best-known collection is The Donald Richie Reader, which contains 50 years of his writings on Japan.