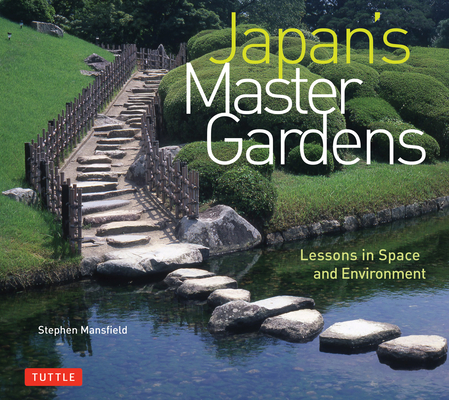 Japan's Master Gardens
Lessons in Space and Environment
Hardcover

* Individual store prices may vary.
Other Editions of This Title:
Hardcover (4/10/2012)
Description
Presenting twenty-five master gardens, this landscape design book explores the ingenuity and range of Japanese landscaping, from the self-imposed confines of courtyard designs to the open expanses of the stroll garden. No two Japanese gardens are ever the same. The Japanese Zen garden is a work of art equivalent in scale to an installation, but it is also an urban refuge, a setting where we can attain composure and equipoise. It is a place to collect our thoughts, examine deeper feelings, and ponder our responses to managed nature. Zen gardens comprise a sensory as much as a cultural experience. They are multifaceted, satisfying both our personal and intellectual yearnings. This beautifully-photographed book illustrates a tradition that benefits from a thousand years of applied knowledge. It also demonstrates how contemporary landscaping draws from its history and reflects on why ancient gardening should be relevant to the lives of people in the twenty-first century. In this beautifully illustrated book, Japanese gardening specialist Stephen Mansfield takes readers on an exploration of the outward forms, underpinning principles, sophisticated use of metaphor and allusion, and beauty and depth that set the Zen garden apart. Readers of his previous book, Japanese Stone Gardens, will find in this new work a worthy companion volume. Japan's Master Gardens is an inspiring, thought-provoking tribute to the landscape design wisdom of the Japanese.
Tuttle Publishing, 9780804850544, 144pp.
Publication Date: April 10, 2018
About the Author
Stephen Mansfield, an author and freelance photojournalist based in Japan, has contributed to over 60 magazines, newspapers and journals worldwide. His books include Japanese Stone Gardens: Origins, Meaning, Form and Tokyo: A Cultural and Literary History. A specialist in the field, he has visited over two hundred gardens in Japan, written extensively on the topic and designed a Japanese garden of his own.