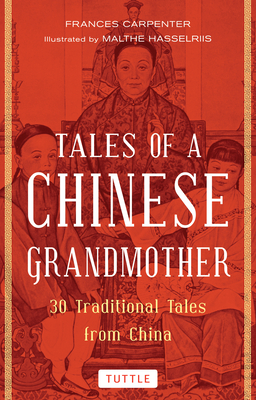 Tales of a Chinese Grandmother (Paperback)
30 Traditional Tales from China
Tuttle Publishing, 9780804851619, 304pp.
Publication Date: April 16, 2019
Other Editions of This Title:
Paperback (8/1/2001)
Paperback (4/11/2017)
* Individual store prices may vary.
Description
This illustrated multicultural children's book presents classic Chinese fairy tales and other folklore--providing a delightful look into a rich literary culture.
Chinese folktale tradition is as colorful and captivating as any, but the stories themselves still are not as well-known to Western readers as those from The Brothers Grimm, Mother Goose, or Hans Christian Andersen.
Tales of a Chinese Grandmother
presents a collection of 30 authentic Chinese tales. These classic stories represent the best of the Chinese folklore tradition, and are told here by the beloved Lao Lao--the grandmother in the nineteenth-century Ling household. The result of a long and proud storytelling tradition, these Chinese stories are sure to delight adults as well as children of all ages.
Tales of a Chinese Grandmother includes:
How Pan Ku Made the World
The God that Lived in the Kitchen
The Daughter of the Dragon King
The Grateful Fox Fairy
The King of the Monkeys
The Wonderful Pear Tree
Ko-Ai's Lost Shoe
Heng O, the Moon Lady
The Old Old One's Birthday
About the Author
Frances Carpenter (1890-1972) had a love of foreign lands and cultures, which she observed closely during her extensive travels--first with her journalist and author father and later with her diplomat husband. During her lifetime she traveled more than 100,000 miles across a number of continents. She was a fellow for the Royal Geographical Society, Vice President of the International Society of Woman Geographers, and president of the Smith College Alumnae Association. Malthe Hasselriis (1888-1970) was a self-taught miniaturist whose sitters included Pearl Buck, Madame Chiang Kai-shek, and President John F. Kennedy. He was also a talented illustrator, providing watercolors for stories by Pearl Buck, and for editions of The Ugly Duckling. He won the Levantia White Boardman award for best miniature in 1948 and 1956, and his work is included in the Smithsonian American Art Museum's collection.