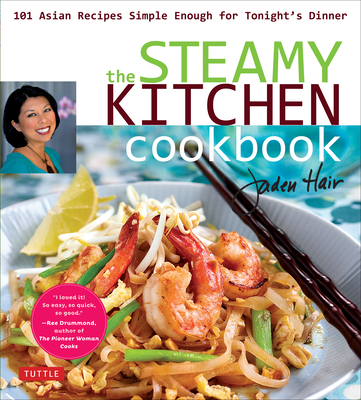 The Steamy Kitchen Cookbook
101 Asian Recipes Simple Enough for Tonight's Dinner
Paperback

* Individual store prices may vary.
Other Editions of This Title:
Hardcover (8/15/2017)
Paperback (2/5/2013)
Hardcover (10/1/2009)
Description
You will absolutely love the 101 Asian recipes in this easy-to-use cookbook
This engaging cookbook includes dozens upon dozens of full-proof Asian recipes that are quick and easy to do--all in time for tonight's supper The recipes will appeal to Americans' growing interest in Asian cuisines and a taste for foods that range from pot stickers to bulgogi burgers and from satay to summer rolls. Whether you're hurrying to get a weekday meal on the table for family or entertaining on the weekend, author and blogger Jaden Hair will walk you through the steps of creating fresh, delicious Asian meals without fuss. In an accessible style and a good splash of humor, Jaden takes the trauma out of preparing foreign Asian recipes. With Jaden's guiding hand, you'll find it both simple and fun to recreate Asian flavors in your own kitchen and to share the excitement of fresh Asian food with your family and friends
Asian recipes include:
Firecracker Shrimp
Pork & Mango Potstickers
Quick Vietnamese Chicken Pho
Beer Steamed Shrimp with Garlic
Korean BBQ-style Burgers
Maridel's Chicken Adobo
Simple Baby Bok Choy and Snow Peas
Chinese Sausage Fried Rice
Grilled Bananas with Chocolate and Toasted Coconut Flakes
Tuttle Publishing, 9780804851695, 160pp.
Publication Date: March 26, 2019
About the Author
Jaden Hair was born in Hong Kong, but raised in the heartland of America. She is a self-taught cook whose love of good food inspired her to learn how to cook the delicious Chinese recipes her mother had prepared when she was growing up. Jaden's approach to cooking is fun, creative and very accessible, and touches on many traditions of Asian cooking, from Thai, Korean, Japanese, Vietnamese, Chinese, and more. She honors the core tradition of each style of cuisine she masters, while tweaking it to fit the tastes and lifestyles of busy Americans. Jaden teaches cooking classes in Tampa and L.A. and shares her passion about cooking and eating well through a variety of media, including: her Steamy Kitchen blog; a weekly column in The Tampa Tribune; a regular live spot live on Sarasota's ABC7; as a frequent guest writer on the web site Simply Recipes, and through her beautiful photographs. Jaden lives in Bradenton, Florida, with her husband Scott and her two sons, Andrew and Nathan.