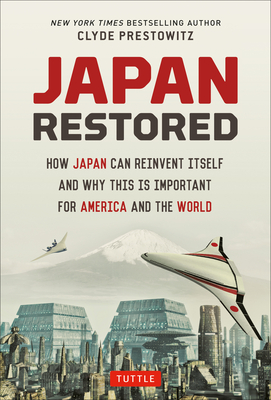 Japan Restored (Hardcover)
How Japan Can Reinvent Itself and Why This Is Important for America and the World
Tuttle Publishing, 9780804851817, 288pp.
Publication Date: April 16, 2019
Other Editions of This Title:
Hardcover (11/10/2015)
* Individual store prices may vary.
Description
Fascinating and controversial vision of the future of one of the world's great economic powers
Provides insights into contemporary Japanese society in the run-up to the 2020 Tokyo Olympics
Deals with universal issues of concern to anyone with an interest in global economic, policy, and security issues
About the Author
New York Times Bestselling Author Clyde Prestowitz is a long time student of Japan who served as a lead negotiator with Tokyo in his position as Counselor to the Secretary of Commerce in the Reagan Administration. His first book, Trading Places: How We Allowed Japan to Take the Lead, revolutionized thinking about Japan's economic miracle and its relationship with the United States. Prestowitz is founder and President of the Economic Strategy Institute in Washington. He served as Vice Chairman of President Clinton's Commission on Trade and Investment in the Asia-Pacific Region, as an advisor to the Export/Import Bank, as a member of Intel's Policy Advisory Committee, and as an advisor to the Center for Strategic and International Studies of Indonesia. Prestowitz has also been a blogger for Foreign Policy Magazine, and is a prolific contributor to publications such as the Financial Times, New York Times, and L.A.Times. In addition to Trading Places, his books include: Rogue Nation, Three Billion New Capitalists, and The Betrayal of American Prosperity. He resides in Washington D.C. and Maui.