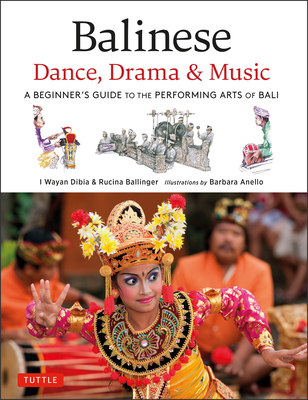 Balinese Dance, Drama & Music
A Beginner's Guide to the Performing Arts of Bali
Hardcover

* Individual store prices may vary.
Other Editions of This Title:
Paperback (3/10/2011)
Paperback (3/1/2011)
Description
This lavishly illustrated book covers all of the exquisite forms of traditional performing arts in Bali--from gamelan music to ritual dance, dramas and puppetry. Ideal reading for visitors to the island, as well as anyone interested in dance, world music and Balinese culture, this book presents the history and function of each type of performance through more than 250 watercolor illustrations and full-color photos. It discusses how Bali's rich history is seen throughout the performances--from ancient sacred ceremonies and Balinese religion (which is a blend of different ones) to Balinese tales, and even magic. Introductory sections discuss the way performing arts are taught in Bali, the principal Balinese cultural values that are passed on in these forms, and the basic religious ideas and cultural tenets that are expressed through the arts. Subsequent chapters each describe a particular form of the art, such as Gamelan Gong Keybar, Gambuh, Legong, Kecak, Baris, Wayang Kulit and the new phenomenon of children's and women's performing groups. Readers will learn more about the evolution of each practice and style, as well as its place in Balinese culture.
Tuttle Publishing, 9780804852760, 112pp.
Publication Date: May 17, 2022
About the Author
I Wayan Dibia is a dancer, musician and choreographer. He received his Ph.D. from the University of California in 1992 before becoming a choreography professor at the College of Indonesian Arts. Rucina Ballinger is an American educator and lecturer on Balinese culture. One of the founders of Gamelan Sekar Jaya, she is an accomplished dancer and performs extensively in Bali as a dancer and comic. She has lived in Ubud with her Balinese husband and two sons since 1985. Barbara Anello is an American artist, writer and photographer who divides her time between Manhattan and Bali. She has exhibited her paintings and photographs in the US, Europe and Asia.