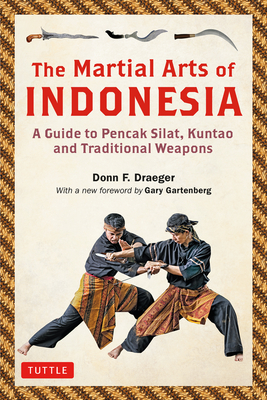 The Martial Arts of Indonesia
A Guide to Pencak Silat, Kuntao and Traditional Weapons
Paperback

* Individual store prices may vary.
Description
Preserved in music, dance, and art--as well as in ritual, tribal law, and mythology--the fighting arts of the Indonesian archipelago play a central role in Indonesian culture.
The Martial Arts of Indonesia
is a heavily illustrated and well-researched work from revered martial arts scholar and teacher Donn F. Draeger. Draeger offers an expert's perspective on the story of Indonesia's martial culture, providing a comprehensive introduction to the sophisticated forms of empty-hand combat. These acrobatic fighting styles like Pencak Silat--which was granted World Cultural Heritage status by UNESCO in 2019--and Kuntao are growing in popularity around the world.
This book also has extensive information on traditional Indonesian weapons including:
Keris: A dagger with a waved blade and pistol-grip handle
Kujang: A sickle-shaped dagger with a distinctive curve
Rencong: An L-shaped knife with a slightly curved blade
Draeger shows how these unique Indonesian forms are related to their mainland cousins, provides a historical context for their development, and describes the various combat methods employed throughout Indonesia. This edition includes a new foreword by Gary Nathan Gartenberg, the world's leading expert on Indonesian martial arts, which explains the lasting importance of this classic study of an ancient martial tradition. With over 400 photos and illustrations of moves and weapons that showcase the intricacies of the Indonesian fighting forms,
The Martial Arts of Indonesia
is an indispensable addition to any martial artist's library.
Tuttle Publishing, 9780804852777, 288pp.
Publication Date: April 6, 2021
About the Author
Donn F. Draeger (1922-1982) was one of the world's leading authorities on the weapons and fighting arts of Asia and was a highly regarded figure in Japan. Licensed in Japan as a teacher of numerous martial arts, he wrote prolifically on the subject. His many publications include Judo Formal Techniques, Shaolin Kung Fu and the six-volume Practical Karate series. Gary Nathan Gartenberg is an expert on Indonesian martial arts and a scholar in the field of Malay & Indonesian studies. Since 1979, he has immersed himself in Southeast Asian martial culture with an emphasis on Indonesia's national sport, pencak silat. Presently, he serves as a strategist, researcher, translator, and content creator for projects regarding the trajectories and disposition of Indonesian arts and artifacts worldwide.