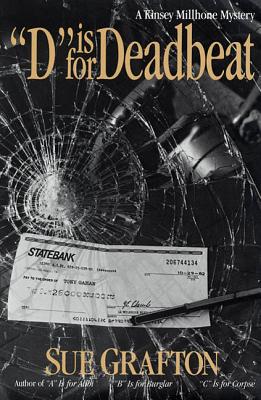 "D" is for Deadbeat (Hardcover)
A Kinsey Millhone Mystery (Kinsey Millhone Alphabet Mysteries #4)
Henry Holt and Co., 9780805002485, 230pp.
Publication Date: May 15, 1987
Other Editions of This Title:
Paperback (10/2/2012)
Paperback (11/29/2005)
* Individual store prices may vary.
Description
Sue Grafton's #1 New York Times bestselling series, reissued for a whole new generation of readers!
D IS FOR DEADBEAT
He called himself Alvin Limardo, and the job he had for Kinsey was cut-and-dried: locate a kid who'd done him a favor and pass on a check for $25,000. It was only later, after he'd stiffed her for her retainer, that Kinsey found out his name was Daggett. John Daggett. Ex-con. Inveterate liar. Chronic drunk. And dead. The cops called it an accident--death by drowning. Kinsey wasn't so sure.
Pulled into the detritus of a dead man's life, Kinsey soon realizes that Daggett had an awful lot of enemies. There's the daughter who grew up with a cheating drunk for a father, and the wife who's become a religious nut in response to an intolerable marriage. There's the lady who thought she was Mrs. Daggett--and has the bruises to prove it--only to discover the legal Mrs. D. And there are the drug dealers out $25,000. But most of all, there are the families of the five people John Daggett killed, victims of his wild, drunken driving. The D.A. called it vehicular manslaughter and put him away for two years. The families called it murder and had very good reason to want John Daggett dead.
Deft, cunning, and clever, this latest Millhone mystery also confronts some messy truths, for, as Kinsey herself says, "Some debts of the human soul are so enormous only life itself is sufficient forfeit"--but as she'd be the first to admit, murder is not a socially acceptable solution.
"A" Is for Alibi
"B" Is for Burglar
"C" Is for Corpse
"D" Is for Deadbeat
"E" Is for Evidence
"F" Is for Fugitive
"G" Is for Gumshoe
"H" Is for Homicide
"I" Is for Innocent
"J" Is for Judgment
"K" Is for Killer
"L" is for Lawless
"M" Is for Malice
"N" Is for Noose
"O" Is for Outlaw
"P" Is for Peril
"Q" Is for Quarry
"R" Is for Ricochet
"S" Is for Silence
"T" Is for Trespass
"U" Is for Undertow
"V" Is for Vengeance
"W" Is for Wasted
"X"
About the Author
#1 New York Times bestselling author Sue Grafton (1940-2017) entered the mystery field in 1982 with the publication of 'A' Is for Alibi, which introduced female hard-boiled private investigator, Kinsey Millhone, operating out of the fictional town of Santa Teresa, (aka Santa Barbara) California, and launched the bestselling Kinsey Millhone Alphabet Mysteries. In addition to her books, she published several Kinsey Millhone short stories, and with her husband, Steven Humphrey, wrote numerous movies for television, including "A Killer in the Family" (starring Robert Mitchum), "Love on the Run" (starring Alec Baldwin and Stephanie Zimbalist) and two Agatha Christie adaptations, "Sparkling Cyanide" and "Caribbean Mystery," which starred Helen Hayes. Grafton is published in 28 countries and in 26 languages.
Praise For "D" is for Deadbeat: A Kinsey Millhone Mystery (Kinsey Millhone Alphabet Mysteries #4)…
"One of the things that makes Sue Grafton's Kinsey Millhone series so unfailingly entertaining is Millhone's character. She's the last one to cultivate eccentricities in the Nero Wolfe manner, and her unsentimental, loner's-eye view of herself and the world keeps her feet on the ground. But her cases often get messy because she feels things strongly. This happens again, more satisfyingly than ever, in 'D' is for Deadbeat." —The Detroit News
"Kinsey Millhone has the characteristic persistence of the good private eye who won't be deterred from digging out the truth. With skill, Grafton keeps not only her appealing detective but her readers on the edge to know more." —Ms. magazine
"Taut prose and controlled plotting make Grafton an outstanding writer of hardboiled detective stories. Social awareness and human weakness play a great part in the Millhone books, which always manage to finish with a heart-stopping climax. Well done indeed." —Library Journal