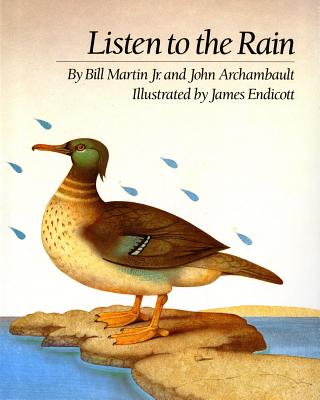 Listen to the Rain (Hardcover)
Henry Holt & Company, 9780805006827, 32pp.
Publication Date: November 15, 1988
Description
Bill Martin Jr. and John Archambault evoke the beauty and the mystery, and the sounds and the silences-- of rain.
"Listen to the rain, "
"the whisper of the rain, "
"the slow soft sprinkle, "
"the drip-drop tinkle, "
"the first wet whisper of the rain."
Their marvelous ear for the melodies and rhythm of language, combined with James Endicott's spare, almost abstract paintings, have created a lyrical book with a haunting power-- perfect for reading aloud on a rainy day.
An NCTE Notable Trade Book for the Language Arts.
About the Author
Bill Martin, Jr. (1916-2004) was an elementary-school principal, teacher, writer, and poet. His more than 300 books, among them the bestselling classics Brown Bear, Brown Bear, What Do You See?; Polar Bear, Polar Bear, What Do You Hear?; Panda Bear, Panda Bear, What Do You See?; and Chicka Chicka Boom Boom, are a testament to his ability to speak directly to children. Martin held a doctoral degree in early childhood education. Born in Kansas, he worked as an elementary-school principal in Chicago before moving to New York City, where he worked in publishing developing innovative reading programs for schools. After several years, he devoted himself full-time to writing his children's books. He lived in New York until 1993, when he moved to Texas. He lived in the east Texas woods, near the town of Commerce, until he passed away in 2004. John Archambault is a poet, journalist, and storyteller, who worked with Bill Martin, Jr. on such outstanding books as Up and Down the Merry-Go-Round, The Ghost-Eye Tree, Knots on a Counting Rope, and Barn Dance! He lives in California.James Endicott's illustrations have appeared in Time, the Atlantic Monthly, the New York Times, Bon Appetit, and many other national publications. He lives in Texas.
Praise For Listen to the Rain…
"Another lyrical book-- this time a rhyming story about rain....A book that parents, teachers, and children will read again and again and again."--School Library Journal, starred review
Advertisement