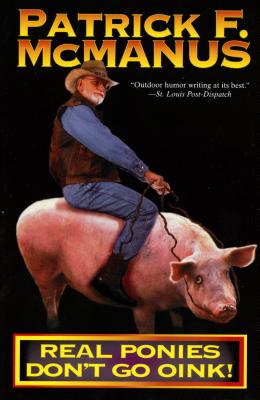 Real Ponies Don't Go Oink! (Paperback)
Holt Paperbacks, 9780805021073, 208pp.
Publication Date: June 15, 1992
* Individual store prices may vary.
Description
Bestsellers by America's favorite humorist:
-A Fine And Pleasant Misery
They Shoot Canoes, Don't They?
Never Sniff A Gift Fish
The Grasshopper Trap
Rubber Legs And White Tail-hairs
The Night The Bear Ate Goombaw
Whatchagot Stew (with Patricia "The Troll" McManus Gass)
Real Ponies Don't Go Oink!
The Good Samaritan Strikes Again
How I Got This Way
These titles are available from Henry Hold and Company.
About the Author
Patrick F. McManus (1933-2018) is the author of novels, plays, and more than a dozen collections of his humor columns from Outdoor Life and other magazines. There are nearly two million copies of his book in print, including his bestselling The Shoot Canoes, Don't They?; The Night the Bear Ate Goombaw; and A Fine and Pleasant Misery.
Praise For Real Ponies Don't Go Oink!…
"Patrick McManus is a treasure." —The Atlantic
"Everybody should read Patrick McManus." —The New York Times Book Review
"A style that brings to mind Mark Twain, Art Buchwald, and Garrison Keillor." —People
"The funniest writer around today." —Atlanta Journal-Constitution
"McManus captures the innocence most of us lose when we become grown-up, and reading him you can't help recalling similar times and events in your won life." —Booklist