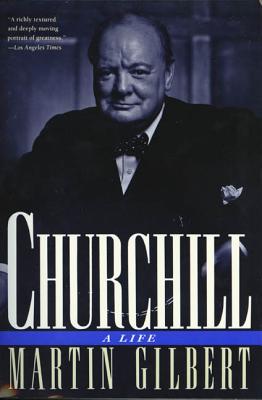 Churchill (Paperback)
A Life
Holt Paperbacks, 9780805023961, 1088pp.
Publication Date: October 15, 1992
* Individual store prices may vary.
Description
Distilled from years of meticulous research and documentation, filled with material unavailable when the earliest books of the official biography's eight volumes went to press, Churchill is a brilliant marriage of the hard facts of the public life and the intimate details of the private man. The result is a vital portrait of one of the most remarkable men of any age as well as a revealing depiction of a man of extraordinary courage and imagination.
About the Author
One of Britain's most distinguished historians, Martin Gilbert was knighted in 1995. A fellow of Merton College, Oxford, he is also the official biographer of Winston Churchill. Among his books are The Holocaust, The Second World War, Churchill: A Life, Auschwitz and the Allies, The First World War, and Never Again.
Praise For Churchill: A Life…
"Mr. Gilbert's job was to bring alive before his readers a man of extraordinary genius and scarcely less extraordinary destiny. He has done so triumphantly." —Hugh Brogan, The New York Times Book Review
"A richly textured and deeply moving portrait of greatness." —The Los Angeles Times
"By far the most lucid, comprehensive, and authoritative account of Churchill that has been offered in a single volume. It furnishes a crown to Gilbert's already prodigious labors." —Philip Ziegler, The Telegraph (London)
"It would seem impossible to distill the eight volumes of Churchill's authorized biography into a single volume, even one of a thousand pages. But that is what Martin Gilbert has done, and the result does not seem pinched at all. It is of course a grand story." —The Washington Post Book World
"The most scholarly study of Churchill in war and peace ever written . . . essential diplomatic history and enlightening personal history." —Herbert Mitgang, The New York Times