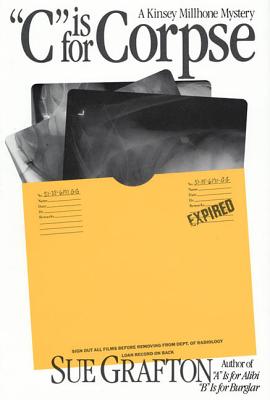 "C" Is for Corpse (Hardcover)
A Kinsey Millhone Mystery (Kinsey Millhone Alphabet Mysteries #3)
Henry Holt and Co., 9780805028188, 243pp.
Publication Date: May 15, 1986
Other Editions of This Title:
Paperback (11/29/2005)
Hardcover, Large Print (6/1/2008)
Paperback (8/7/2012)
Mass Market Paperback (4/1/1987)
* Individual store prices may vary.
Description
You haven't read a thriller until you read #1 New York Times bestselling author Sue Grafton's novels with her unforgettable P.I. Kinsey Millhone…
"C" is for Corpse

He was young-maybe twenty or so-and he must once have been a good-looking kid. Kinsey could see that. But now his body was covered in scars, his face half-collapsed. It saddened Kinsey and made her curious. She could see he was in a lot of pain. But for three weeks, as Kinsey'd watched him doggedly working out at the local gym, putting himself through a grueling exercise routine, he never spoke.
Then one Monday morning when there was no one else in the gym, Bobby Callahan approached her. His story was hard to credit: a murderous assault by a tailgating car on a lonely rural road, a roadside smash into a canyon 400 feet below, his Porsche a bare ruin, his best friend dead. The doctors had managed to put his body back together again-sort of. His mother's money had seen to that. What they couldn't fix was his mind, couldn't restore the huge chunks of memory wiped out by the crash. Bobby knew someone had tried to kill him, but he didn't know why. He knew he had the key to something that made him dangerous to the killer, but he didn't know what it was. And he sensed that someone was still out there, ready to pounce at the first sign his memory was coming back. He'd been to the cops, but they'd shrugged off his story. His family thought he had a screw loose. But he was scared-scared to death. He wanted to hire Kinsey.
His case didn't have a whole lot going for it, but he was hard to resist: young, brave, hurt. She took him on. And three days later, Bobby Callahan was dead.
Kinsey Millhone never welshed a deal. She'd been hired to stop a killing. Now she'd find the killer.
"A" Is for Alibi
"B" Is for Burglar
"C" Is for Corpse
"D" Is for Deadbeat
"E" Is for Evidence
"F" Is for Fugitive
"G" Is for Gumshoe
"H" Is for Homicide
"I" Is for Innocent
"J" Is for Judgment
"K" Is for Killer
"L" is for Lawless
"M" Is for Malice
"N" Is for Noose
"O" Is for Outlaw
"P" Is for Peril
"Q" Is for Quarry
"R" Is for Ricochet
"S" Is for Silence
"T" Is for Trespass
"U" Is for Undertow
"V" Is for Vengeance
"W" Is for Wasted
"X"
About the Author
#1 New York Times bestselling author Sue Grafton (1940-2017) entered the mystery field in 1982 with the publication of 'A' Is for Alibi, which introduced female hard-boiled private investigator, Kinsey Millhone, operating out of the fictional town of Santa Teresa, (aka Santa Barbara) California, and launched the bestselling Kinsey Millhone Alphabet Mysteries. In addition to her books, she published several Kinsey Millhone short stories, and with her husband, Steven Humphrey, wrote numerous movies for television, including "A Killer in the Family" (starring Robert Mitchum), "Love on the Run" (starring Alec Baldwin and Stephanie Zimbalist) and two Agatha Christie adaptations, "Sparkling Cyanide" and "Caribbean Mystery," which starred Helen Hayes. Grafton is published in 28 countries and in 26 languages.
Praise For "C" Is for Corpse: A Kinsey Millhone Mystery (Kinsey Millhone Alphabet Mysteries #3)…
"Kinsey Millhone is smart, sexual, likeable and a very modern operator. A pleasure to read." —Dorothy Salisbury Davis on "A" Is for Alibi
"[This] is what grandpa used to call a class act." —Stanley Ellin on "A" Is for Alibi
"Millhone is my favorite among the new female private eyes. She's feisty, stubborn, resourceful, guardedly romantic, and willfully practical...she's my kind of loner." —Cryptus, Detroit News on "B" Is for Burglar