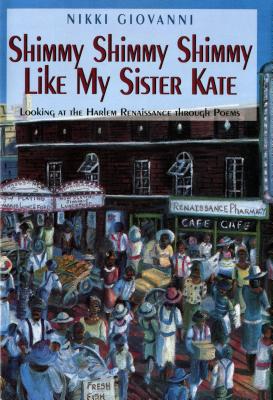 Shimmy Shimmy Shimmy Like My Sister Kate: Looking at the Harlem Renaissance Through Poems (Hardcover)
Looking at the Harlem Renaissance Through Poems
Henry Holt & Company, 9780805034943, 208pp.
Publication Date: April 15, 1996
* Individual store prices may vary.
or
Not Currently Available for Direct Purchase
Description
A remarkable collection of poetry from the Harlem Renaissance and beyond, stitched together with commentary from Giovanni.... An important resource for those interested in poetry and in understanding the African American experience.
About the Author
Nikki Giovanni has written many books of poetry for children and adults. She is the author of Lincoln and Douglass, The Genie in the Jar, and Ego-tripping and Other Poems for Young People. Rosa is a Caldecott Honor book. Giovanni calls herself, "a Black American, a daughter, a mother, a professor of English." She was born in Knoxville, Tennessee, and grew up in Lincoln Heights, an all-black suburb of Cincinnati, Ohio. She studied at Fisk University, the University of Pennsylvania, and Columbia University. She published her first book of poetry, Black Feeling Black Talk, in 1968, and since then has become one of America's most widely read poets. Oprah Winfrey named her as one of her twenty-five "Living Legends." Her autobiography Gemini was a finalist for the National Book Award, and several of her books have received NAACP Image Awards. She has received some twenty-five honorary degrees, been named Woman of the Year by Mademoiselle Magazine, The Ladies Home Journal and Ebony, was the first recipient of the Rosa L. Parks Woman of Courage Award, and has been awarded the Langston Hughes Medal for poetry. Nikki Giovanni lives in Christiansburg, Virginia, where she is a professor of English at Virginia Polytechnic Institute.
Praise For Shimmy Shimmy Shimmy Like My Sister Kate: Looking at the Harlem Renaissance Through Poems…
"This is a fine collection whatever the need: for poetry shelves, black history collections, social consciousnessraising sessions, cultural literacy courses--or for anyone who likes the sight of words that shimmy shimmy shimmy on the page."--Kirkus Reviews "A remarkable collection of poetry from the Harlem Renaissance and beyond.... this title is an important resource for those interested in poetry and in understanding the African American experience."
--School Library Journal "Poet Giovanni celebrates the great flowering of African American poetry when writers such as Langston Hughes, Robert Hayden, and Countee Cullen spoke for the people with powerful simplicity. The poetry sings for all of us with sadness, anger, humor, and grace."
--Hazel Rochman, Booklist
Advertisement