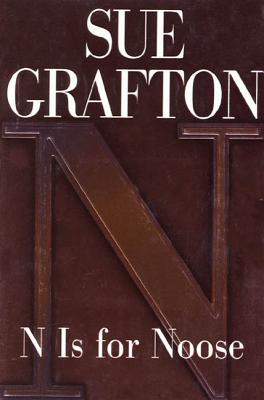 N is for Noose (Hardcover)
Henry Holt & Company, 9780805036503, 289pp.
Publication Date: May 15, 1998
Description
Kinsey Millhone should have done something else--she should have turned the car in the direction of home. Instead, she was about to put herself in the gravest jeopardy of her career.
Tom Newquist had been a detective in the Nota Lake sheriff's office--a tough, honest cop respected by everyone. When he died suddenly, the townsfolk were saddened but not surprised: Just shy of sixty-five, Newquist worked too hard, smoked too much, and exercised too little. That plus an appetite for junk food made him a poster boy for an American Heart Association campaign. Newquist's widow didn't doubt the coroner's report. But what Selma couldn't accept was not knowing what had so bothered Tom in the last six weeks of his life. What was it that had made him prowl restlessly at night, that had him brooding constantly? Selma Newquist wanted closure, and the only way she'd get it was if she found out what it was that had so bedeviled her husband. Kinsey should have dumped the case. It was vague and hopeless, like looking for a needle in a haystack. Instead, she set up shop in Nota Lake, where she found that looking for a needle in a haystack can draw blood. Very likely, her own."N" Is for Noose: a novel in which Kinsey Millhone becomes the target and an entire town seems in for the kill.
About the Author
Sue Grafton entered the mystery field in 1982 with the publication of 'A' Is for Alibi, which introduced female hard-boiled private investigator, Kinsey Millhone, operating out of the fictional town of Santa Teresa, (aka Santa Barbara) California. 'B' is for Burglar followed in 1985 and the series, now referred to as 'the alphabet' mysteries, is still going strong. In addition to her books, she's published several Kinsey Millhone short stories, and with her husband, Steven Humphrey, has written numerous movies for television, including "A Killer in the Family" (starring Robert Mitchum), "Love on the Run" (starring Alec Baldwin and Stephanie Zimbalist) and two Agatha Christie adaptations, "Sparkling Cyanide" and "Caribbean Mystery," which starred Helen Hayes. Grafton is published in 28 countries and 26 languages. She loves cats, gardens, and good cuisine. Sue has a home in Montecito, California, and another in Louisville, the city in which she was born and raised.
Praise For N is for Noose…
"There are few writers able to sustain this solid mixture of detection, narrative energy, and cultural observation."--Paul Skenazy, Washington Post
Advertisement