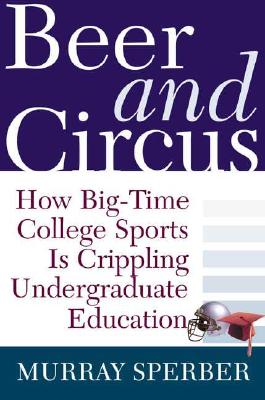 Beer and Circus: How Big-Time College Sports Has Crippled Undergraduate Education (Hardcover)
How Big-Time College Sports Has Crippled Undergraduate Education
Henry Holt and Co., 9780805038644, 320pp.
Publication Date: September 1, 2000
* Individual store prices may vary.
or
Not Currently Available for Direct Purchase
Description
A no-holds-barred examination of the troubled relationship between college sports and higher education from a leading authority on the subject

Murray Sperber turns common perceptions about big-time college athletics inside out. He shows, for instance, that contrary to popular belief the money coming in to universities from sports programs never makes it to academic departments and rarely even covers the expense of maintaining athletic programs. The bigger and more prominent the sports program, the more money it siphons away from academics.
Sperber chronicles the growth of the university system, the development of undergraduate subcultures, and the rising importance of sports. He reveals television's ever more blatant corporate sponsorship conflicts and describes a peculiar phenomenon he calls the "Flutie Factor"--the surge in enrollments that always follows a school's appearance on national television, a response that has little to do with academic concerns. Sperber's profound re-evaluation of college sports comes straight out of today's headlines and opens our eyes to a generation of students caught in a web of greed and corruption, deprived of the education they deserve.
Sperber presents a devastating critique, not only of higher education but of national culture and values. Bear & Circus is a must-read for all students and parents, educators and policy makers.
About the Author
Murray Sperber is in constant demand as a media commentator on college sports. A professor of English and American studies at Indiana University, Bloomington, his previous books include "College Sports, Inc."; "Onward to Victory: The Crises That Shaped College Sports" (0-8050-3865-5); and "Shake Down the Thunder: The Creation of Notre Dame Football."
Advertisement