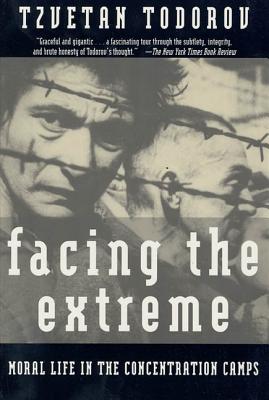 Facing the Extreme: Moral Life in the Concentration Camps (Paperback)
Moral Life in the Concentration Camps
St. Martins Press-3pl, 9780805042641, 307pp.
Publication Date: April 1, 1997
Description
The Nazi concentration camps and the Soviet gulag provide the context for this acclaimed examination of the human capacity for moral life. Drawing on a striking array of documents, Tzvetan Todorov reconstructs a vivid portrait of the conduct of those who ran the camps and those who suffered their outrages. Challenging the widespread view that moral life was extinguished in the extreme circumstances of the camps, he uncovers instead a rich moral universe, composed not of grand acts of heroism but of ordinary gestures of dignity and care, compassion and solidarity.
A complex and profound study, "Facing the Extreme "restores a lost dimension to this anguished history, even as it offers an eloquent plea for the recognition of everyday virtues as a basis for contemporary morality.
About the Author
Tzvetan Todorov is the director of research at the Centre National de Recherches in Paris and the author of many highly acclaimed works, including The Conquest of America.
Praise For Facing the Extreme: Moral Life in the Concentration Camps…
"Graceful and gigantic...a fascinating tour through the subtlety, integrity, and brute honesty of Todorov's thought."—The New York Times Book Review

"Todorov invigorates the debate over morality with rigor and grace, Aristotelian fineness, fluid prose, and his own virtues of compassion, humility, and realism."—David Greenberg, The Washington Post

"In a world that continues to devalue human life, Todorov leaves us with a sense of hope that morality, with its ultimate action and caring, will not disappear."--Eva Fogelman, The Boston Globe
Advertisement