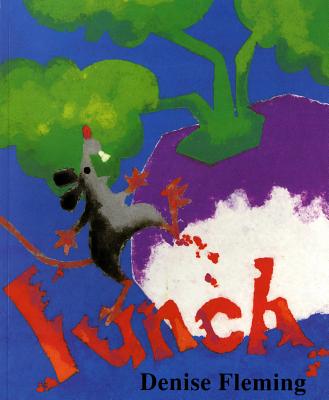 Lunch (Paperback)
Henry Holt & Company, 9780805046465, 32pp.
Publication Date: April 15, 1996
Description
It's time for lunch, and one little mouse is famished In fact, he's so hungry that once he starts eating, he can't stop. He sinks his teeth into a crisp white turnip, gobbles up some orange carrots, devours an ear of yellow corn, then tosses back some tender green peas. He's full, but this mouse keeps on munching until his bulging belly won't hold another bite.
Parents will see their own toddlers in this perky tale, and toddlers won't get enough of the gregarious little mouse. They'll proudly identify the colors of his (and their) favorite foods, and enjoy guessing what fruit or vegetable he'll eat next. Color-savvy readers are sure to spot the rainbow contained in the background pages-- and almost everyone will agree that this is one book about colors that makes the plain old primaries look positively pale
An ALA Notable Book
About the Author
Denise Fleming has written and illustrated many children's books, including In the Tall, Tall Grass, Shout! Shout It Out!, and Sleepy, Oh So Sleepy. She won a Caldecott Honor for In the Small, Small Pond. Denise published her first painting in the third grade, when she started taking classes at the Toledo Museum of Art and one of her paintings was chosen to be the cover of a teacher's magazine. She now works primarily with paper, by pouring colored paper pulp through hand-cut stencils. She lives in Toledo, Ohio.
Praise For Lunch…
"Fleming's feisty mouse peeks out of a hole in the wall and spies a table laden with goodies-a smorgasbord of fruits and vegetables in bold colors. With each turn of the page, the hungry mouse samples one colorful food after another: crisp white turnip, tasty orange carrot, sweet yellow corn, tender green peas. Children will love to guess what food comes next..." --Booklist

"A well designed, joyous romp through food and color." --School Library Journal, starred review

"A beautifully crafted book." --Kirkus Reviews, pointer

"Soup's on in this tummy-tempting concept book." --Publishers Weekly
Advertisement