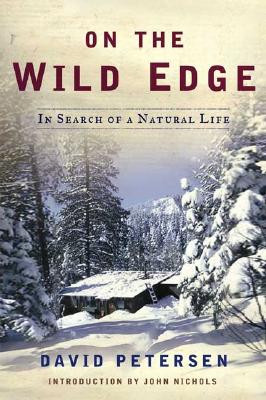 On the Wild Edge: In Search of a Natural Life (Hardcover)
In Search of a Natural Life
Henry Holt and Co., 9780805047745, 272pp.
Publication Date: March 24, 2005
* Individual store prices may vary.
or
Not Currently Available for Direct Purchase
Description
A naturalist captures the beauty and capriciousness of nature as he reflects on twenty-five years of life on a mountainside in southwestern Colorado

Twenty-five years ago David Petersen and his wife, Caroline, pulled up stakes, trading Laguna Beach, California, for a snug hand-built cabin in the wilderness. Today he knows that mountain land as intimately as anyone has ever known his family, his lover, or his own true self. He has become so attuned to his environment, as this memoir demonstrates, that when a dead twig snaps, he knows what stepped on it, how much it weighs, and what its intentions are.

The author conflates a quarter century into the adventures of four high-country seasons, tracking the rigors of survival from the snowmelt that announces the arrival of spring to the decline and death of autumn and winter that will establish the fertile ground needed for next spring's rebirth. Throughout each instance of personal history and story, Petersen illustrates the complete reciprocity of nature where the same impulse that governs the flight of elk or bear also governs the predator's impulse of pursuit.

In the past we listened to Henry David Thoreau and Aldo Leopold; today it is Petersen's turn. A committed believer in Thoreau's dictum "in wildness is the preservation of the earth," Petersen's observations are lyrical, scientific, and from the heart. In this chaotic age, his clear, direct prose is rich with mystery and soul, his words a plea for the survival of the remnant wilderness that surrounds us.
About the Author
David Petersen lives with his wife, Caroline, and a series of dogs in a little cabin on a big mountain in the American Southwest near Durango, Colorado. Prior to leaving behind a conventional life, Petersen was an officer and pilot in the U.S. Marines, managing editor of a national motorcycle magazine, two-time college graduate, mailman, beach bum, and western editor for" Mother Earth News." "On the Wild Edge" is Petersen's "lucky thirteenth" book.
Advertisement