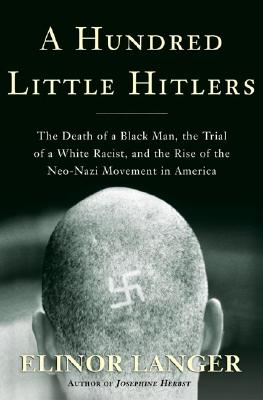 A Hundred Little Hitlers (Hardcover)
The Death of a Black Man, the Trial of a White Racist, and the Rise of the Neo-Nazi Movement in Americ
Metropolitan Books, 9780805050981, 416pp.
Publication Date: September 1, 2003
* Individual store prices may vary.
Description
A riveting account of a skinhead killing and a chilling look at the world in which it happened

On November 12, 1988, a group of Portland, Oregon, skinheads known as East Side White Pride met for an evening of beer and racist banter. Later that night, they encountered three Ethiopians; a street fight broke out and Kenneth Mieske brutally beat Mulugeta Seraw with a bat. In the early-morning hours, Seraw died.

Drawing on more than ten years of original research, award-winning journalist Elinor Langer takes the Seraw case as the occasion for a thorough investigation of the Nazi-inspired racist movement in the United States. She vividly reconstructs the world of the skinheads, both in Portland and nationally: their origins in the punk scene, their basement shrines to Nazi power, their moments of glory on Oprah and Geraldo. She delves into the long-standing radical groups with which the skinheads became allied, tracking the progress of such powerful figures as white Aryan resistance leader Tom Metzger through the stations of the far right, from the Birch Society to Christian Identity to David Duke's Klan. In gripping detail, she follows ambitious civil-rights lawyer Morris Dees's efforts to prove Metzger responsible for the Portland killing-a sensational campaign to curb the growth of neo-Nazism.

Compelling, disturbing, and important, A Hundred Little Hitlers is both an epic account of racism and justice, and a close examination of social forces that loom ever more dangerously today.
About the Author
Author of the acclaimed biography" Josephine Herbst," Elinor Langer has written for "The New York Review of Books ," "The New York Times," and "The Nation," among other publications. "A Hundred Little Hitlers "was chosen as a finalist for the J. Anthony Lukas Award for work-in-progress. Langer lives in Portland, Oregon.
Praise For A Hundred Little Hitlers: The Death of a Black Man, the Trial of a White Racist, and the Rise of the Neo-Nazi Movement in Americ…
"An extraordinary book, written with passion, grace, and wisdom. The murder at its center is a reflection not just of racism in the United States, but of something much more widespread. Langer has taken one act of violence, looked at it carefully and courageously, and illuminated a whole moral universe." -Adam Hochschild, author of King Leopold's Ghost
or
Not Currently Available for Direct Purchase