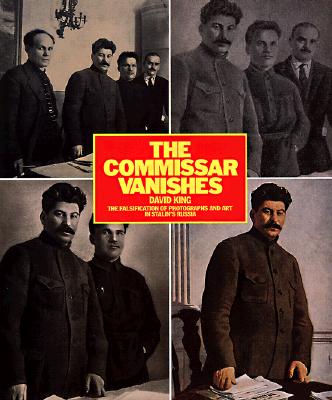 The Commissar Vanishes (Hardcover)
Metropolitan Books, 9780805052947, 192pp.
Publication Date: October 1, 1997
* Individual store prices may vary.
or
Not Currently Available for Direct Purchase
Description
The Commissar Vanishes offers a chilling look at how one man - Joseph Stalin - manipulated the science of photography to advance his own political career and to erase the memory of his victims. On Stalin's orders, purged rivals were airbrushed from group portraits, and crowd scenes were altered to depict even greater legions of the faithful. In one famous image, several Party members disappeared from an official photograph, to be replaced by a sylvan glade. For the past three decades, author and photohistorian David King has assembled the world's largest archive of photographs, posters, and paintings from the Soviet era. His collection has grown to more than a quarter of a million images, the best of which have been selected for The Commissar Vanishes. The efforts of the Kremlin airbrushers were often unintentionally hilarious. A 1919 photograph showing a large crowd of Bolsheviks clustered around Lenin, for example, became, with the aid of the retoucher, an intimate portrait of Lenin and Stalin sitting alone, and then, in a later version, of Stalin by himself. The Commissar Vanishes is nothing less than the history of the Soviet Union, as retold through falsified images, many of them published here for the first time outside Russia. In each case, the juxtaposition of the original and the doctored images yields a terrifying - and often tragically funny - insight into one of the darkest chapters of modern history.

Praise For The Commissar Vanishes…
A New York Times Notable Book

"This lush volume by David King is a fascinating and sobering account of the rewriting of history and the willful creation of myths through the falsification of images in the Soviet Union during the Stalin era. A priceless collection. "-The New York Times

"The Commissar Vanishes provides vivid, tragic, and at times comic evidence of the dictator's determination to manipulate even his country's memory. "-The Wall Street Journal
Advertisement