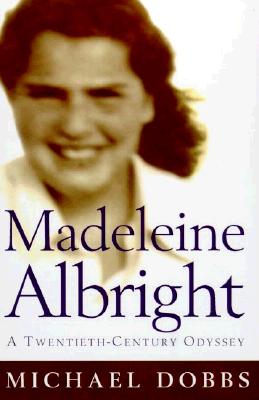 Madeleine Albright: Against All Odds (Hardcover)
Against All Odds
Henry Holt and Co., 9780805056594, 320pp.
Publication Date: April 1, 1999
* Individual store prices may vary.
or
Not Currently Available for Direct Purchase
Description
The definitive biography of one of the most admired women in America.

She was born Maria Jana Korbelova in Prague just before the outbreak of World War II, the first child of Czech Jewish parents. Almost sixty years later Madeleine Korbel Albright was sworn in as the U.S. Secretary of State, the first woman to hold the position. Here is the story of her dramatic life and rise to power in this meticulously researched biography that expands on the noteworthy research by Washington Post reporter Michael Dobbs who, in 1997, first pieced together the incredible and nearly lost history of Albright's early life.

At the age of two, Madeleine was saved from almost certain death by being whisked to freedom after Hitler's invasion. More than two dozen close relatives died in Nazi camps. In an attempt to protect themselves and their family from further persecution, her parents kept silent about their Jewish roots, raising their children as Catholics.

Dobbs traces Albright's progress from a European ghetto to the corridors of power in Washington. He shows how Albright's life has been shaped by the great events of our times: the rise and fall of Nazism and communism, the Holocaust, the women's movement, and America's ascent to superpower status. Madeleine Albright is a tragic but ultimately triumphant tale of a woman's struggle against adversity that reflects the experience of millions of American immigrants.
About the Author
Michael Dobbs was Washington Post bureau chief in Moscow from 1988 to 1993 and covered the State Department through 1997. He returns to the investigative staff of the Post in the fall of 1998. He is the author of Down with Big Brother: The Fall of the Soviet Empire.
Praise For Madeleine Albright: Against All Odds…
"Highly compelling. It is hard to find a more timely subject to chronicle or a better time to publish this work." (David Beard, The Boston Globe)

"Illuminating and generally even handed." (Aaron L. Friedberg, The New York Times Book Review)

"A richly nuanced picture of Albright, contradictions and all."(Ruth Walker, The Christian Science Monitor)

"An astonishing job of research . . . [Dobbs] has uncovered important facts of which Ms. Albright herself was apparently unaware." (Robert A. Lincoln, Richmond Times-Dispatch)
Advertisement