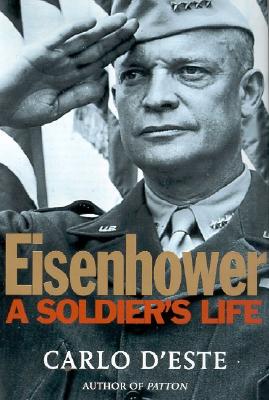 Eisenhower: A Soldier's Life (Hardcover)
A Soldier's Life
Henry Holt and Co., 9780805056860, 864pp.
Publication Date: June 1, 2002
* Individual store prices may vary.
or
Not Currently Available for Direct Purchase
Description
From the bestselling author of Patton: A Genius for War comes a compelling new account of the transformation of General Dwight D. Eisenhower, from apprehensive soldier to one of our greatest heros.

In the weeks leading up to D-Day, Dwight D. Eisenhower seethed with nervous energy. He had not expected his military career to bring him to this moment. The son of pacifists, Ike graduated from high school more likely to teach history than to make it. Casting new light on this profound evolution, Eisenhower chronicles the unlikely, dramatic rise of the supreme Allied commander.

Beginning with the lasting effect of Eisenhower's impoverished youth, bestselling biographer Carlo D'Este follows his subject through West Point and a sometimes troubled marriage; toil under MacArthur in the Philippines during the 1930s; the inner sanctums of the War Department; the general's painful North African apprenticeship; and, finally, the dramatic events leading to the Allied victory in May 1945.

Exposing for the first time numerous myths that have surrounded the war hero and his family (such as his romance with his wartime driver, Kay Summersby), D'Este also probes Eisenhower's famous clashes with his American peers and the British chiefs of staff, as well as his relations with legendary figures, including Winston Churchill and George S. Patton.

Unlike other biographies of the general, Eisenhower captures Ike's true character, from his youth to the pinnacle of his career and afterward.
About the Author
Carlo D'Este, a retired U.S. Army lieutenant colonel and a distinguished military historian, is the author of "Patton: A Genius for War" and three other books on World War II, all of which received high praise. He lives in New Seabury, Massachusetts.
Advertisement