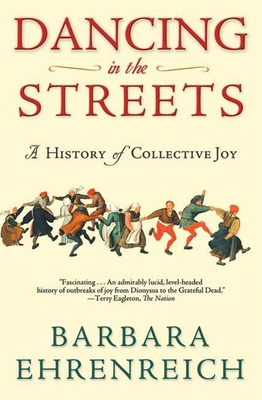 Dancing in the Streets (Paperback)
A History of Collective Joy
Henry Holt & Company, 9780805057249, 320pp.
Publication Date: December 26, 2007
Description
"Fascinating . . . An admirably lucid, level-headed history of outbreaks of joy from Dionysus to the Grateful Dead."--Terry Eagleton, The Nation
Widely praised as "impressive" (The Washington Post Book World), "ambitious" (The Wall Street Journal), and "alluring" (The Los Angeles Times), Dancing in the Streets explores a human impulse that has been so effectively suppressed that we lack even a term for it: the desire for collective joy, historically expressed in revels of feasting, costuming, and dancing.
Drawing on a wealth of history and anthropology, Barbara Ehrenreich uncovers the origins of communal celebration in human biology and culture. From the earliest orgiastic Mesopotamian rites to the medieval practice of Christianity as a "danced religion" and the transgressive freedoms of carnival, she demonstrates that mass festivities have long been central to the Western tradition. In recent centuries, this festive tradition has been repressed, cruelly and often bloodily. But as Ehrenreich argues in this original, exhilarating, and ultimately optimistic book, the celebratory impulse is too deeply ingrained in human nature ever to be completely extinguished.
About the Author
Barbara Ehrenreich is the bestselling author of Nickel and Dimed, Bait and Switch, Bright-sided, This Land Is Their Land, and Blood Rites, among others. A frequent contributor to Harper's and The Nation, she has also been a columnist at The New York Times and Time magazine. She is the winner of the L.A. Times Book Prize for Current Interest and ALA Notable Books for Nonfiction. Ehrenreich was born in Butte, Montana, when it was still a bustling mining town. She studied physics at Reed College, and earned a Ph.D. in cell biology from Rockefeller University. Rather than going into laboratory work, she got involved in activism, and soon devoted herself to writing her innovative journalism. She lives and works in Florida.
Advertisement