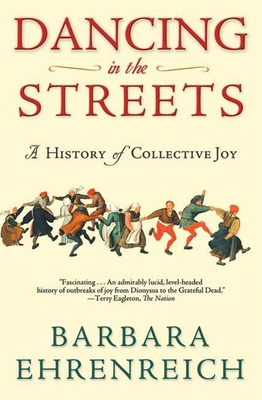 Dancing in the Streets (Paperback)
A History of Collective Joy
Holt Paperbacks, 9780805057249, 336pp.
Publication Date: December 26, 2007
Other Editions of This Title:
Digital Audiobook (12/31/2005)
Compact Disc (1/1/2007)
Hardcover (1/9/2007)
Audio Cassette (1/1/2007)
Audio Cassette (1/1/2007)
Pre-Recorded Audio Player (9/1/2009)
MP3 CD (1/1/2007)
Compact Disc (1/1/2007)
* Individual store prices may vary.
Description
"Fascinating . . . An admirably lucid, level-headed history of outbreaks of joy from Dionysus to the Grateful Dead."—Terry Eagleton, The Nation
Widely praised as "impressive" (The Washington Post Book World), "ambitious" (The Wall Street Journal), and "alluring" (The Los Angeles Times), Dancing in the Streets explores a human impulse that has been so effectively suppressed that we lack even a term for it: the desire for collective joy, historically expressed in revels of feasting, costuming, and dancing.
Drawing on a wealth of history and anthropology, Barbara Ehrenreich uncovers the origins of communal celebration in human biology and culture. From the earliest orgiastic Mesopotamian rites to the medieval practice of Christianity as a "danced religion" and the transgressive freedoms of carnival, she demonstrates that mass festivities have long been central to the Western tradition. In recent centuries, this festive tradition has been repressed, cruelly and often bloodily. But as Ehrenreich argues in this original, exhilarating, and ultimately optimistic book, the celebratory impulse is too deeply ingrained in human nature ever to be completely extinguished.
About the Author
Barbara Ehrenreich is the bestselling author of several books, including Nickel and Dimed, Bait and Switch, Bright-sided, This Land Is Their Land, Dancing In The Streets, and Blood Rites. A frequent contributor to Harper's and The Nation, she has also been a columnist at The New York Times and Time magazine.
"A simply brilliant, hilarious satirist."—The Baltimore Sun
"It would be hard to find a wittier, more insightful guide to the last three decades than Ehrenreich. Arguing with her is part of the pleasure of reading her."—Laura Shapiro, Newsweek
Praise For Dancing in the Streets: A History of Collective Joy…
"A fabulous book on carnival and ecstasy, skillfully arranged and brilliantly explained." —Robert Farris Thompson, author of Tango: The Art History of Love
"Barbara Ehrenreich shows how and why people celebrate together, and equally what causes us to fear celebration. Here is the other side of ritual, whose dark side she explored in Blood Rites. She ranges in time from the earliest festivals drawn on cave walls to modern football crowds; she finds that festivities and ecstatic rituals have been a way to address personal ills like melancholy and shame, social ills as extreme as those faced by American slaves. Dancing in the Streets is itself a celebration of language -- clear, funny, unpredictable. This is a truly original book." —Richard Sennett, author of The Culture of the New Capitalism