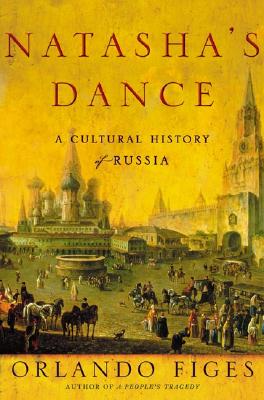 Natasha's Dance: A Cultural History of Russia (Hardcover)
A Cultural History of Russia
Metropolitan Books, 9780805057836, 544pp.
Publication Date: October 1, 2002
* Individual store prices may vary.
or
Not Currently Available for Direct Purchase
Description
History on a grand scale-an enchanting masterpiece that explores the making of one of the world's most vibrant civilizations

A People's Tragedy, wrote Eric Hobsbawm, did "more to help us understand the Russian Revolution than any other book I know." Now, in Natasha's Dance, internationally renowned historian Orlando Figes does the same for Russian culture, summoning the myriad elements that formed a nation and held it together.

Beginning in the eighteenth century with the building of St. Petersburg-a "window on the West"-and culminating with the challenges posed to Russian identity by the Soviet regime, Figes examines how writers, artists, and musicians grappled with the idea of Russia itself-its character, spiritual essence, and destiny. He skillfully interweaves the great works-by Dostoevsky, Stravinsky, and Chagall-with folk embroidery, peasant songs, religious icons, and all the customs of daily life, from food and drink to bathing habits to beliefs about the spirit world. Figes's characters range high and low: the revered Tolstoy, who left his deathbed to search for the Kingdom of God, as well as the serf girl Praskovya, who became Russian opera's first superstar and shocked society by becoming her owner's wife.

Like the European-schooled countess Natasha performing an impromptu folk dance in Tolstoy's War and Peace, the spirit of "Russianness" is revealed by Figes as rich and uplifting, complex and contradictory-a powerful force that unified a vast country and proved more lasting than any Russian ruler or state.
About the Author
Orlando Figes is the author of "Peasant Russia, Civil War, "and "A People's Tragedy: The Russian Revolution, 1891-1924, "which received the Wolfson Prize for History and the "Los Angeles Times" Book Prize, among other distinctions. A regular contributor to "The New York Times, The Washington Post, ""The Times Literary Supplement," and "London Review of Books," Figes professor of history at Birbeck College, University of London. He lives in Cambridge, England, with his wife and two daughters.
Advertisement