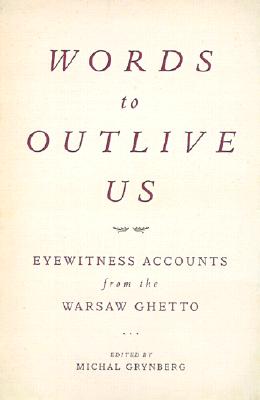 Words to Outlive Us: Eyewitness Accounts from the Warsaw Ghetto (Hardcover)
Eyewitness Accounts from the Warsaw Ghetto
Metropolitan Books, 9780805058338, 512pp.
Publication Date: October 1, 2002
* Individual store prices may vary.
or
Not Currently Available for Direct Purchase
Description
The story of the Warsaw Ghetto told through twenty-eight never-before-published accounts-a precious and historic find.

In the history of the Holocaust, the Warsaw Ghetto stands as the enduring symbol of Jewish suffering and heroism. This collective memoir-a mosaic of individual diaries, journals, and accounts-follows the fate of the Warsaw Jews from the first bombardments of the Polish capital to the razing of the Jewish district. The life of the ghetto appears here in striking detail: the frantic exchange of apartments as the walls first go up; the daily battle against starvation and disease; the moral ambiguities confronting Jewish bureaucracies under Nazi rule; the ingenuity of smugglers; and the acts of resistance.

Written inside the ghetto or in hiding outside its walls, these extraordinary testimonies preserve voices otherwise consigned to oblivion: a woman doctor whose four-year-old son is deemed a threat to the hideout; a painter determined to complete his mural of Job and his trials; a ten-year-old girl barely eluding blackmailers on the Aryan side of the city. Stunning in their immediacy, the urgent accounts recorded here provide much more than invaluable historical detail: they challenge us to imagine the unimaginable.
About the Author
The late Michal Grynberg, an associate of the Jewish Historical Institute in Warsaw, and a noted Polish scholar of the Holocaust, devoted decades of his life to compiling and publishing firsthand accounts from ghettos throughout Poland.

Philip Boehm is the author of numerous translations from Polish and German, including works by Franz Kafka, Ida Fink, and Christoph Hein. Based in St. Louis, he is also a playwright and theater director.
Praise For Words to Outlive Us: Eyewitness Accounts from the Warsaw Ghetto…
"Among Holocaust literature, these precious narratives come closest to telling us how it was in these dark times. These memoirs will not only be among the last of their kind, but among the most important."
--Marek Web, YIVO
Advertisement