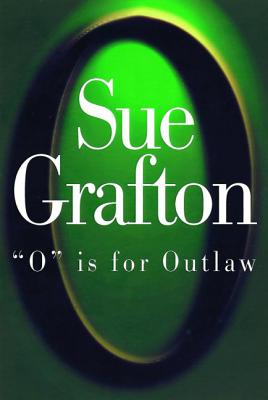 "O" is for Outlaw (Kinsey Millhone Alphabet Mysteries #15) (Hardcover)
Henry Holt and Co., 9780805059557, 336pp.
Publication Date: October 12, 1999
* Individual store prices may vary.
Description
"Grafton keeps pulling out surprises- and pulling us in." —Entertainment Weekly on "O" is for Outlaw
Through fourteen books, fans have been fed short rations when it comes to Kinsey Millhone's past: a morsel here, a dollop there. We know of the aunt who raised her, the second husband who left her, the long-lost family up the California coast. But husband number one remained a blip on the screen until now.
The call comes on a Monday morning from a guy who scavenges defaulted storage units at auction. Last week he bought a stack. They had stuff in them--Kinsey stuff. For thirty bucks, he'll sell her the lot. Kinsey's never been one for personal possessions, but curiosity wins out and she hands over a twenty (she may be curious but she loves a bargain). What she finds amid childhood memorabilia is an old undelivered letter.
It will force her to reexamine her beliefs about the breakup of that first marriage, about the honor of that first husband, about an old unsolved murder. It will put her life in the gravest peril."O" Is for Outlaw: Kinsey's fifteenth adventure into the dark side of human nature.
"A" Is for Alibi
"B" Is for Burglar
"C" Is for Corpse
"D" Is for Deadbeat
"E" Is for Evidence
"F" Is for Fugitive
"G" Is for Gumshoe
"H" Is for Homicide
"I" Is for Innocent
"J" Is for Judgment
"K" Is for Killer
"L" is for Lawless
"M" Is for Malice
"N" Is for Noose
"O" Is for Outlaw
"P" Is for Peril
"Q" Is for Quarry
"R" Is for Ricochet
"S" Is for Silence
"T" Is for Trespass
"U" Is for Undertow
"V" Is for Vengeance
"W" Is for Wasted
"X"
About the Author
#1 New York Times bestselling author Sue Grafton (1940-2017) entered the mystery field in 1982 with the publication of 'A' Is for Alibi, which introduced female hard-boiled private investigator, Kinsey Millhone, operating out of the fictional town of Santa Teresa, (aka Santa Barbara) California, and launched the bestselling Kinsey Millhone Alphabet Mysteries. In addition to her books, she'd published several Kinsey Millhone short stories, and with her husband, Steven Humphrey, wrote numerous movies for television, including "A Killer in the Family" (starring Robert Mitchum), "Love on the Run" (starring Alec Baldwin and Stephanie Zimbalist) and two Agatha Christie adaptations, "Sparkling Cyanide" and "Caribbean Mystery," which starred Helen Hayes. Grafton is published in 28 countries and in 26 languages.
Praise For "O" is for Outlaw (Kinsey Millhone Alphabet Mysteries #15)…
"Grafton keeps pulling out surprises- and pulling us in." —Entertainment Weekly