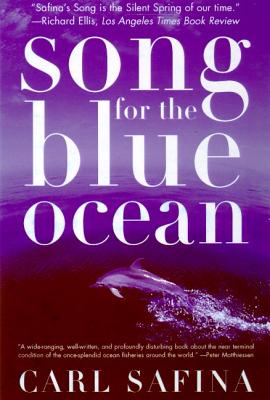 Song for the Blue Ocean (Paperback)
Encounters Along the World's Coasts and Beneath the Seas
Holt Paperbacks, 9780805061222, 480pp.
Publication Date: June 15, 1999
* Individual store prices may vary.
Description
Part odyssey, part pilgrimage, this epic personal narrative follows the author's exploration of coasts, islands, reefs, and the sea's abyssal depths. Scientist and fisherman Carl Safina takes readers on a global journey of discovery, probing for truth about the world's changing seas, deftly weaving adventure, science, and political analysis.
About the Author
Carl Safina's work has been recognized with MacArthur, Pew, and Guggenheim Fellowships, and his writing has won Orion, Lannan, and National Academies literary awards and the John Burroughs, James Beard, and George Rabb medals. He has a PhD in ecology from Rutgers University. Safina is the inaugural holder of the endowed chair for nature and humanity at Stony Brook University, where he co-chairs the steering committee of the Alan Alda Center for Communicating Science and is founding president of the not-for-profit Safina Center. He hosted the 10-part PBS series Saving the Ocean with Carl Safina. His writing appears in The New York Times, National Geographic, Audubon,Orion, and other periodicals and on the Web at National Geographic News and Views, Huffington Post, and CNN.com. Beyond Words is his seventh book. He lives on Long Island, New York.
Praise For Song for the Blue Ocean: Encounters Along the World's Coasts and Beneath the Seas…
"Safina's Song is the Silent Spring for our time. The book is a page turner. But unlike the phantasmagorical novels of Michael Crichton or Peter Benchley, where a little science is thrown in to give the plot an aura of verisimilitude, Safina's book is all true and wilder and more frightening. . . . I loved this book." —Richard Ellis, Los Angeles Times
"[Safina's] bright new voice joins that influential chorus, which includes Rachel Carson and Jacques Cousteau, of scientists turned eloquent ocean advocates." —Harry E. Demarest, San Francisco Chronicle
"Engrossing and illuminating . . . passionate and enthralling narrative . . . [A] landmark book." —Thurston Clarke, The New York Times Book Review
"You will never think about fish-or the ocean-the same way again." —Sylvia Earle, National Oceanic and Atmospheric Association
"If you love the ocean, read this book." —Big Game Fishing Journal