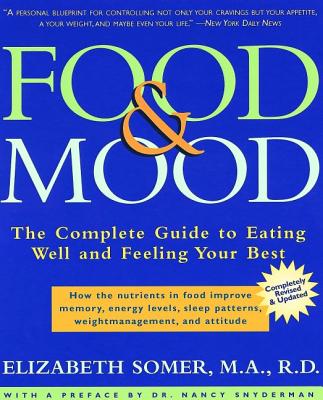 Food and Mood
Second Edition: The Complete Guide To Eating Well and Feeling Your Best
Paperback

* Individual store prices may vary.
Description
Food and Mood will help you balance your moods, boost your energy level, and take back your life now!

Why do you feel tired after eating a full meal? Why do you have so much trouble concentrating? Why do you crave chocolate? Can diet affect depression? Is there a natural cure for insomnia? Nutrition expert Elizabeth Somer answers all these questions and more in this completely updated and revised second edition to her nutritional guide Food and Mood.

The result of research encompassing thousands of the most up-to-date scientific studies, Somer explains how what we eat has a direct influence on how we feel, think, sleep, look, and act. She addresses specific food-related issues including health conditions, food cravings, diet struggles, stress, PMS, winter blues, energy levels, depression, memory, and sleep patterns, as well as tackling the issue of supplements and providing the real story on those you need and those you don't.

This entirely new edition covers the latest information on how to:
- naturally fight fatigue and stress
- boost brain power and improve memory with the latest supplements
- fight depression with exercise and special dietary fats called omega-3 fatty acids
- satisfy your cravings for chocolate, ice cream, potato chips, and steak without sacrificing your waistline
- sleep better naturally
- and much more!

Included is Somer's revolutionary Feeling Good Diet, a program that shows you how to take control of your eating habits to benefit mood and mental functioning now.
Praise For Food and Mood: Second Edition: The Complete Guide To Eating Well and Feeling Your Best…
"Now completely revised and updated, the "personal blueprint for controlling not only your cravings but your appetite, your weight, and maybe even your life." —New York Daily News
Holt Paperbacks, 9780805062007, 448pp.
Publication Date: December 15, 1999
About the Author
Elizabeth Somer, M.A., R.D., is a consulting nutritionist and a regular contributor to such national magazines as Shape, Better Homes and Gardens, and American Health. She is also the author of Food & Mood, Nutrition for Women (0-8050-7081-8), Nutrition for a Healthy Pregnancy (0-8050-6998-4), and The Origin Diet (0-8050-6928-3). She lives in Salem, Oregon.