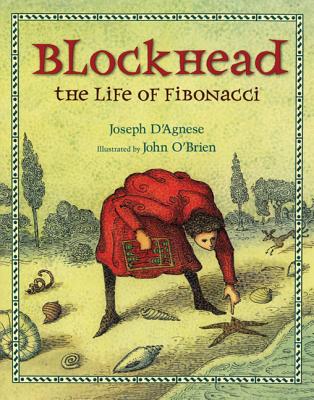 Blockhead (Hardcover)
The Life of Fibonacci
Henry Holt & Company, 9780805063059, 40pp.
Publication Date: March 30, 2010
* Individual store prices may vary.
Description
As a young boy in medieval Italy, Leonardo Fibonacci thought about numbers day and night. He was such a daydreamer that people called him a blockhead.
When Leonardo grew up and traveled the world, he was inspired by the numbers used in different countries. Then he realized that many things in nature, from the number of petals on a flower to the spiral of a nautilus shell, seem to follow a certain pattern. The boy who was once teased for being a blockhead had discovered what came to be known as the Fibonacci Sequence
Blockhead is a 2011 Bank Street - Best Children's Book of the Year.
About the Author
Joseph D'Agnese is a writer and journalist who lives in the mountains of Western North Carolina. Though he writes about the Middle Ages, he considers himself a Renaissance man.John O'Brien is a frequent contributor to The New Yorker and has illustrated many popular children's books, including Did Dinosaurs Eat Pizza and This is Baseball.
Praise For Blockhead: The Life of Fibonacci…
"Charming and accessible..."—The New York Times Book Review
* "The lively text includes touches of humor; Emperor Frederick called him 'one smart cookie.' O'Brien's signature illustrations textured with thin lines re-create a medieval setting."—
Kirkus Reviews, starred review
 "Math lover or not, readers should succumb to the charms of this highly entertaining biography of medieval mathematician Leonardo Fibonacci."—
Publishers Weekly
 "D'Agnese's introduction to medieval Europe's greatest mathematician offers both a coherent biographical account—spun, with some invented details, from very sketchy historical records—and the clearest explanation to date for younger readers of the numerical sequence that is found throughout nature and still bears his name."—
Booklist
"This lighthearted introduction to Fibonacci's ideas will inspire young math lovers and perhaps point them toward more scholarly explorations."—School Library Journal
"[An] engaging, kid-friendly look at Fibonacci and his eponymous numerical sequence... The book has some clever tongue-in-cheek humor, and D'Agnese does readers a favor by clearly explaining Fibonacci's breeding rabbits scenario... Throughout the book, O'Brien's illustrations are textured with swirls and spirals—a whimsical homage to the man who discovered, as he believed, 'the numbers Mother Nature uses to order the universe.'"—Horn Book
"Young listeners should get the gist of Fibonacci's work, and they can test their skills at identifying numbers in the Fibonacci sequence by looking for examples tucked throughout the artwork."—
Bulletin of the Center for Children's Books