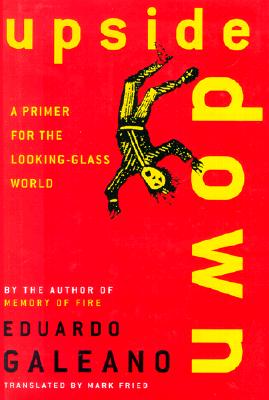 Upside Down: A Primer for the Looking-Glass World (Hardcover)
A Primer for the Looking-Glass World
Metropolitan Books, 9780805063752, 320pp.
Publication Date: October 1, 2000
* Individual store prices may vary.
or
Not Currently Available for Direct Purchase
Description
From the winner of the first Lannan Prize for Cultural Freedom, a bitingly funny, kaleidoscopic vision of the first world through the eyes of the third

Eduardo Galeano, author of the incomparable Memory of Fire Trilogy, combines a novelist's intensity, a poet's lyricism, a journalist's fearlessness, and the strong judgments of an engaged historian. Now his talents are richly displayed in Upside Down, an eloquent, passionate, sometimes hilarious exposé of our first-world privileges and assumptions. In a series of lesson plans and a "program of study" about our beleaguered planet, Galeano takes the reader on a wild trip through the global looking glass. From a master class in "The Impunity of Power" to a seminar on "The Sacred Car"--with tips along the way on "How to Resist Useless Vices" and a declaration of "The Right to Rave"--he surveys a world unevenly divided between abundance and deprivation, carnival and torture, power and helplessness. We have accepted a reality we should reject, Galeano teaches us, one where machines are more precious than humans, people are hungry, poverty kills, and children toil from dark to dark.
A work of fire and charm, Upside Down makes us see the world anew and even glimpse how it might be set right.
"Galeano's outrage is tempered by intelligence, an ineradicable sense of humor, and hope." -Los Angeles Times, front page
About the Author
Eduardo Galeano, one of Latin America's most distinguished writers, journalists, and historians, is the author of the "Memory of Fire" trilogy (winner of the 1989 American Book Award), "Open Veins of Latin America," and many other works. He lives in Montevideo, Uruguay.
Praise For Upside Down: A Primer for the Looking-Glass World…
"Galeano's pages are full of empathy, candor, unsettling connections, and fresh through more than 30 years, affront at the suffering of his country—for Uruguay itself was in exile from its long traditions of tolerance. He writes in defense of his countrymen and others: the embattled Mexican Indians in Chiapas, Brazil's street children, the more than eight million children abandoned across Latin America . . . from the Internet to Interpol, from the vapidity of television to auto-itis, nothing is safe from Galeano's committed deconstructions."—Isabel Fonseca, New York Times Book Review

"Galeano takes us on a dark tour through the rabbit hole at the End of History. Like the revolutionary printmaker Posada, he unmasks the belle epoque of the bourgeoisie as a danse macabre of the masses. No one has focused greater moral clarity on the inhuman conditions and radical inequalities that sustain the mirage of the New Economy."—Mike Davis, author of Ecology of Fear

"This catalog of crimes and absurdities has both the acidity of Jonathan Swift and his dark humor. Who else can make the skeletons dance the way Galeano does?"—The New Yorker

"Galeano blends memoir with political analysis, tale-telling with cultural critique . . . He makes the world feel larger. Galeano puts the New Economy on trial, condemning those who accept a 'reality' that rejects the poor, and would allow globalization to reduce culture to entertainment, life to a spectacle, and news to advertising . . . the blend of fictional forms, autobiography, and radical social critique remains fresh for readers who yearn to find literary works with a political compass."—Lenora Todaro, The Village Voice

"He keeps the radical faith with dry wit, endless curiosity, and an unceasing appetite for absurdity. Upside Down, rife with subversive aphorisms and revealing statistics—to catch 100 criminals a year, Mexico City requires 1,295 police officers, while London makes do with 18—might well be his best work yet."—Jesse Berrett, Mother Jones

"Galeano uses his craft to invade the reader's mind, to persuade him or her to surrender to the charm of his writing and the power of his idealism."—Isabel Allende

"We expect the unexpected from Eduardo Galeano, and he never disappoints us. Upside Down is a brilliant map of our human journey with all the landmarks of joy, pain, and lunacy that define it. No one writes more directly to the human condition, and no one better evokes the tragedy-comedy that plays upon our fragile planet. Eduardo Galeano exceeds himself time and again—he is a force of nature, grand, dangerous, and irrestible. Bravo!"—N. Scott Momaday, author of House Made of Dawn

"Galeano's pages are full of empathy, candor, unsettling connections . . . He is serious but far from deadly . . . From the Internet to Interpol, from the vapidity of television to auto-itis, nothing is safe from Galeano's committed deconstructions."—Isabel Fonseca, The New York Times Book Review

"This is arguably Galeano's most spirited and eloquent examination of our topsy-turvy modern world—a tickling literary hand grenade waiting to detonate in the mind of the reader."—Publishers Weekly

"Galeano's outrage is tempered by intelligence, an ineradicable sense of humor, and hope."—The Los Angeles Times
Advertisement