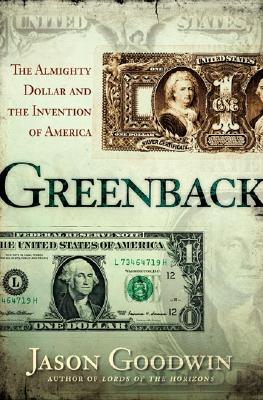 Greenback: The Almighty Dollar and the Invention of America (Hardcover)
The Almighty Dollar and the Invention of America
Henry Holt and Co., 9780805064070, 336pp.
Publication Date: January 1, 2003
* Individual store prices may vary.
or
Not Currently Available for Direct Purchase
Description
From the author of Lords of the Horizons, the
fascinating story of a new kind of money for a
new world
Money has always been at the heart of the American experience. Paper money, invented in Boston in 1698, was a classic of American ingenuity-and American disregard for authority and tradition. With the wry and admiring eye of a modern Tocqueville, Jason Goodwin has written a biography of the dollar, giving us the story of its astonishing career through the wilds of American history.
Greenback looks at the dollar over the years as a form of art, a kind of advertising, a reflection of American attitudes, and a builder of empires. Goodwin shows us how the dollar rolled out the frontier and peopled the Plains; how it erected the great cities; how it expressed the urges of democracy and opportunity. And, above all, Goodwin introduces us to the people who championed-or ambushed-the dollar over the years: presidents, artists, pioneers, and frontiersmen; bankers, shady and upright; safecrackers, crooks, and dreamers of every stripe. It's a vast and colorful cast of characters, who all agreed on one thing: getting the money right was the key to unlocking liberty and the pursuit of happiness.
Greenback delves into folklore and the development of printing, investigates wildcats and counterfeiters, explains why a buck is a buck and how Dixie got its name. Like Goodwin's Lords of the Horizons, another story of empire, Greenback brings together an array of quirky detail and surprising-often hilarious-anecdote to tell the story of America through its best-beloved product.
About the Author
Jason Goodwin's previous titles include" Lords of the Horizons, On Foot to the Golden Horn, " and "A Time for Tea." He lives in England.
Praise For Greenback: The Almighty Dollar and the Invention of America…
Praise for Lords of the Horizons:
"A work of dazzling beauty . . . the rare coming together of historical scholarship and curiosity about distant places with luminous writing."
-The New York Times Book Review
"Jason Goodwin's deftly written and beguiling history of the Ottoman Empire is particularly pertinent today, when the cauldron of ancient hatreds once more boils over, but his prose would be welcome at any time."
-The Boston Globe
"May be read with pleasure and profit by everyone, not least the traveler headed east of Vienna and west of Baghdad."
-The Wall Street Journal
Advertisement