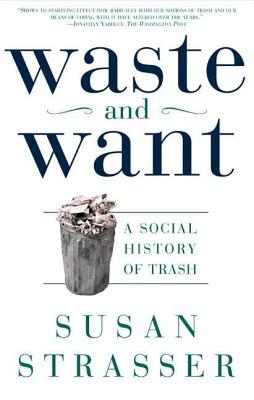 Waste and Want
A Social History of Trash
Paperback

* Individual store prices may vary.
Description
An unprecedented look at that most commonplace act of everyday life-throwing things out-and how it has transformed American society.

Susan Strasser's pathbreaking histories of housework and the rise of the mass market have become classics in the literature of consumer culture. Here she turns to an essential but neglected part of that culture-the trash it produces-and finds in it an unexpected wealth of meaning.

Before the twentieth century, streets and bodies stank, but trash was nearly nonexistent. With goods and money scarce, almost everything was reused. Strasser paints a vivid picture of an America where scavenger pigs roamed the streets, swill children collected kitchen garbage, and itinerant peddlers traded manufactured goods for rags and bones. Over the last hundred years, however, Americans have become hooked on convenience, disposability, fashion, and constant technological change-the rise of mass consumption has led to waste on a previously unimaginable scale.

Lively and colorful, Waste and Want recaptures a hidden part of our social history, vividly illustrating that what counts as trash depends on who's counting, and that what we throw away defines us as much as what we keep.
Praise For Waste and Want: A Social History of Trash…
"Strasser retrieves what history discards: the taken-for-granted minutiae of the everyday life of ordinary people." —Naomi Bliven, The New Yorker

"Susan Strasser reads our American history in our tea leaves—and countless tons of other domestic garbage—as she traces the changing meanings of waste and thrift from Colonial times to the present." —The Boston Globe

"Shows to startling effect how radically both our notions of trash and our means of coping with it have altered over the years." —Jonathan Yardley, The Washington Post

"Strasser is a superb researcher." —The New York Times Book Review
Holt Paperbacks, 9780805065121, 368pp.
Publication Date: September 1, 2000
About the Author
Susan Strasser is the author of the award-winning Never Done: A History of American Housework, Satisfaction Guaranteed: The Making of the American Mass Market and Waste and Want: A Social History of Trash. Her articles have appeared in The New York Times, The Washington Post, and The Nation. A professor of history at the University of Delaware, she lives near Washington, D.C.