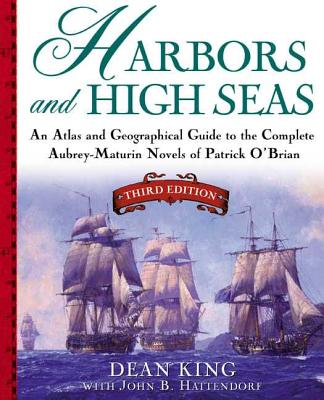 Harbors and High Seas (Paperback)
An Atlas and Geographical Guide to the Complete Aubrey-Maturin Novels of Patrick O'Brian, Third Edition
Holt Paperbacks, 9780805066142, 288pp.
Publication Date: October 1, 2000
* Individual store prices may vary.
Description
This indispensable guide to navigating the well-loved Aubrey-Maturin novels has been updated, with new chapters devoted to the final books in the series. Harbors and High Seas includes maps created exclusively for each of the novels in this world-renowned series.
About the Author
Dean King is the author of many works of nonfiction, including Patrick O'Brian: A Life Revealed and Every Man Shall Do His Duty. He lives in Richmond, Virginia.
John B. Hattenborf
is a professor of maritime history at the United States Naval War College. J.
Praise For Harbors and High Seas: An Atlas and Geographical Guide to the Complete Aubrey-Maturin Novels of Patrick O'Brian, Third Edition…
"Carefully maps and illustrates the oceans, ports, islands, and actions, book by book of the Aubrey-Maturin Series." —Los Angeles Times
"These battle and voyage maps greatly enhance the pleasure of O'Brian's salty tales O'Brian aficionados surely will make frequent use of Harbors and High Seas--a worthy, stirring guide to the world of the British Navy in the Age of Sail." —Pequot Pilot
"The assorted world travels of Aubrey and Maturin can leave you geographically adrift. With not a moment to lose, help is but a bookstore away. Harbors and High Seas. . . comes in handy if you're reading the series over a number of years an need a quick reminder of past plots." —Chicago Tribune
"The ideal Baedeker." —Kirkus Reviews