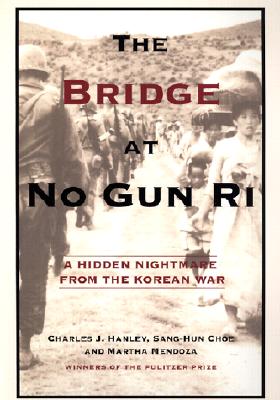 The Bridge at No Gun Ri: A Hidden Nightmare from the Korean War (Hardcover)
A Hidden Nightmare from the Korean War
Henry Holt and Co., 9780805066586, 336pp.
Publication Date: September 1, 2001
* Individual store prices may vary.
or
Not Currently Available for Direct Purchase
Description
The untold human story of a massacre of Korean civilians by American soldiers in the early days of the Korean War, by the Pulitzer Prize-winning journalists who uncovered it

In the fall of 1999, a team of Associated Press investigative reporters broke the news that U.S. troops had massacred a large group of South Korean civilians early in the Korean War. On the eve of that pivotal war's 50th anniversary, their reports brought to light a story that had been supressed for decades, confirming allegations the U.S. military had sought to dismiss. It made headlines around the world.

In The Bridge at No Gun Ri, the team tells the larger, human story behind the incident through the eyes of the people who survived it: on the American side, the green recruits of the "good time" U.S. occupation army in Japan made up of teenagers who viewed unarmed farmers as enemies and generals who had never led men into battle; on the Korean side, the peasant families forced to flee their ancestral village caught between the invading North Koreans and the U.S. Army. The narrative looks at victims both Korean and American; at the ordinary lives and high-level decisions that led to the fatal encounter; at the terror of the three-day slaughter; at the memories and ghosts that forever haunted the survivors. The story of No Gun Ri also illuminates the larger story of the Korean War-also known as the Forgotten War-and how an arbitrary decision to divide the country in 1945 led to the first armed conflict of the Cold War.
About the Author
Sang-hun Choe, Charles J. Hanley, and Martha Mendoza were awarded the Pulitzer Prize for Investigative Reporting. Choe, whose work received a special award from the Korean Journalists Assocation, is an AP reporter in Seoul, South Korea. Hanley is a special correspondent with the AP International Desk in New York and co-author of two works of nonfiction. Mendoza, the recipient of a John S. Knight Fellowship at Stanford, is an AP national reporter in San Jose, California.
Praise For The Bridge at No Gun Ri: A Hidden Nightmare from the Korean War…
"[A] truly heart-wrenching tale of survival and heroism...This is an inspiring book -- storytelling at its very, very best. Read it."
--Doug Stanton, author of In Harm's Way

"[I]n a class to stand with such work as Hersey's Hiroshima and Keneally's Schindler's List...Powerful history."
--Sydney Schanberg, Pulitzer Prize-winning journalist and author of The Death and Life of Dith Pran, basis of the film The Killing Fields.

"A wrenching story."
--Kirkus Reviews (starred)

"This account, expanded from their Pulitzer Prize-winning reportage, raises questions about military preparedness and civilian involvement that are as relevant today as they were a half a century ago."
--The New Yorker
Advertisement