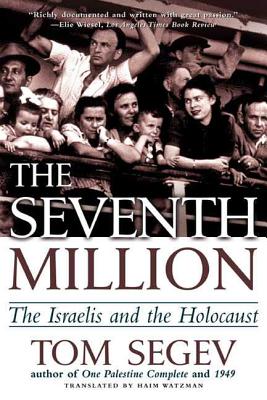 The Seventh Million (Paperback)
The Israelis and the Holocaust
Picador, 9780805066609, 608pp.
Publication Date: November 14, 2000
Other Editions of This Title:
Hardcover (4/1/1993)
Paperback (4/1/1994)
* Individual store prices may vary.
Description
The Seventh Million is the first book to show the decisive impact of the Holocaust on the identity, ideology, and politics of Israel. Drawing on diaries, interviews, and thousands of declassified documents, Segev reconsiders the major struggles and personalities of Israel's past, including Ben-Gurion, Begin, and Nahum Goldmann, and argues that the nation's legacy has, at critical moments--the Exodus affair, the Eichmann trial, the case of John Demjanjuk--have been molded and manipulated in accordance with the ideological requirements of the state. The Seventh Million uncovers a vast and complex story and reveals how the bitter events of decades past continue to shape the experiences not just of individuals but of a nation. Translated by Haim Watzman.
About the Author
Tom Segev is a columnist for Ha'aretz, Israel's leading newspaper, and author of several works on the history of Israel: 1949: The First Israelis; The Seventh Million: The Israelis and the Holocaust; and One Palestine, Complete: Jews and Arabs under the British Mandate. He lives in Jerusalem.
Praise For The Seventh Million: The Israelis and the Holocaust…
"Superb . . . Throws new light on the central trauma of Israeli society, and the uses and abuses of this trauma for political manipulation. I, for one, learned from this book that, in order to survive, societies must learn not only to remember but also to forget." —Amos Elon, author of Founders and Sons
"This book is indispensable reading for anyone interested in Israel's self-image and identity . . . Any further discussion of the Holocaust must confront Tom Segev's work." —George L. Mosse, author of Nazi Culture
"Frank and eye-opening . . . A valuable addition." —Lawrence L. Langer, The New York Times Book Review
"Richly documented and written with great passion." —Elie Wiesel, Los Angeles Times Book Review